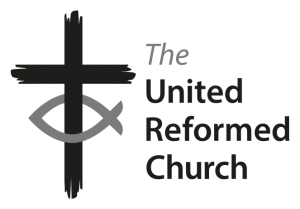 Sharing the Love of Jesus, serving the Community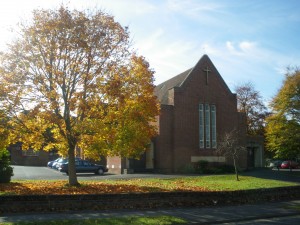 With Sunday worship at the heart of its life, Immanuel is a lively, thriving church, normally open seven days a week and offering  a wide range of activities. Obviously the covid pandemic has taken its toll over the past months and for the immediate future our week-day cycle of clubs and activities will be more limited.
We like to think we are a welcoming church but you'd need to come along and meet us to find that out!  We are always keen to see new faces  – so why not join us  one Sunday morning ?  We'd love to see you.
Since 1969 Immanuel has been in an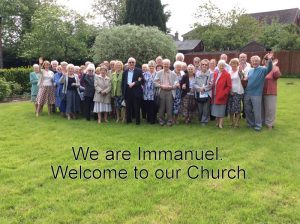 ecumenical partnership in Old Town, Swindon, with Christ Church (Church of England) and Bath Road (Methodist) making us arguably the oldest partnership of its kind in the country. Although we worship in three separate buildings we recognise each other's ministries and try to work as closely together as we can.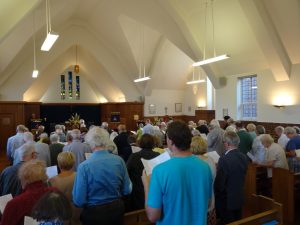 Our partnership logo shows three arrows looking to

the cross  and also coming from the cross – three churches centred on Jesus, but also looking out into the community and the wider world.
We are also in a joint pastorate with Highworth United Reformed Church and share in the ministry of Revd Robert Jordan M.A.
http://www.highworthurc.org.uk
Since the autumn of 2016 we have welcomed onto our premises members of the Romanian Pentecostal Church who use our buildings on a regular basis for worship and meetings  in their tradition and in their language.
Pray for India
I will say of the Lord, 'You are my refuge and my fortress, my God, in whom I trust'.
God of power and might we lift our brothers and sister in India to you.
We pray for your protection,
We pray for your provision,
We pray for the nations of earth to have compassion.
When people are in need, you are our refuge.
When people are scared, you are our refuge.
When people are mourning, you are our refuge.
Compassionate God, draw close to those who seek your refuge today.
Amen.
Prayer points for India
In India, a second wave of Covid is having a devastating impact. Cases are rising at an alarming rate, with more than 350,000 new cases in just 24 hours, according to Reuters.
More than 200,000 lives have been lost to the pandemic in India. Across the country, hospitals are overrun and oxygen supplies are falling short of demand.
Please stand with us and pray for our sisters and brothers in India.
Pray for strength and courage for our sisters and brothers in India, in the most marginalised communities, to claim the support they are entitled to.
Pray for healthcare workers who risk their lives each day to heal and care for the sick with supplies that are running out, that they receive the medicines and equipment they need to give vital treatment.
Pray for Christian Aid's partners, that their messages of protection may reach and help the most vulnerable people.
Pray for people across the world who rely on precarious work, that they may be sustained and not lose hope in times of scarcity.