May 30th: Joint Confirmation Service and Partnership Birthday Service
2021 will go down in our history as a year  when things were different and in our Old Town Partnership that is certainly the case. Given the unusual circumstances this year we are combining the annual Birthday Service (52 years old this year) and the the annual confirmation service. This will be held at Christ Church on the morning of 30th May when the Bishop of Bristol will be with us. 
Because of the covid restrictions still in place if you intend to be there please let Robert know as soon as possible  – our friends at Christ church  need to organise distanced seating to cope with the additional numbers over and above their normal attendance.
Resumption of Church Services At Immanuel – an important announcement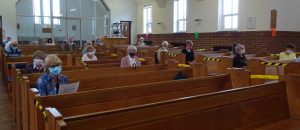 In the light of the falling numbers of covid 19  cases  across the country and the successful national vaccination programme, and having consulted  with many church members, the elders at Immanuel have made the decision to resume worship on the 16th May at 10.30am.
This decision has been taken  after much careful thought, and while we appreciate that some members and friends of the church  would have preferred to see a resumption of  worship by Easter, the overall feeling was that we would do well to wait until a larger number have received full vaccination and until cases in Swindon have dropped to an even lower level.
This decision will be  dependent  on there being no changes in advice of the URC nationally nor in the government's 'road map'. We will also need to ensure that there is adequate staffing at Immanuel to provide the necessary Health and Safety provisions.
The minister and elders are certainly looking forward to some sense of normality returning but are conscious  that we may well need to change our pattern  and format of worship. If you have ideas of changes you would like to see please make contact with Robert or any of the elders.
Please note
When services recommence they will take place under the same conditions as last summer and autumn (as shown in the photo above) :  with strict distancing, face masks being worn by all, but sadly no singing.
Meanwhile, if you'd like to hear  what our services are like  there are links to sound files on the Recent Events page.
Our prayers are with you for your safety and health at this time; it has been difficult time for us all , but we have come so far, and with the vaccines now increasingly available , we are certainly in a  better place than we were some time ago.
Note:
Currently the premises are closed to all users  (because of security, health and safety as well as insurance purposes) so please respect our request that you do not enter the premises. 
A small number of people have been authorised to enter the building from time to time, to check that all is well inside.  If you feel you have a need to access the building, please contact the Minister  or Sue Goodall.
Thank you.