Check the Calendar….
Apart from Sunday services there is nearly always something happening on the church premises throughout  the week.  Here are the regular bookings as they stand at the moment:
Immanuel Regular Bookings Sept 2019
In addition to the regular groups that meet at Immanuel , there are also a lot of 'casual / ad hoc bookings' of the premises, so if you are planning to do anything at the church, it is advisable to check the link below…….. it may save you a wasted journey, as the room you want may be booked and in use.  The run-up to Christmas looks heavily congested!!
Forthcoming Events
ADVENT and CHRISTMAS
December 1st – 8th
Partnership Christmas Tree Festival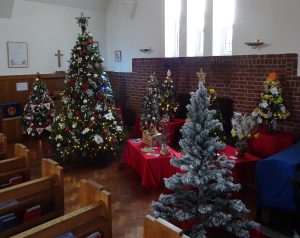 Although the Partnership Christmas Tree Festival is now officially over, so much work went into creating the display  that it has been decided to keep the trees in situ until after Christmas.
You will still be able to enjoy the added sparkle they give to our services  in the run-up to Christmas and on the festival day itself. We know they have been greatly admired by lots of visitors so many  many thanks to all those involved in organising the event, as well, of course, to those who worked so hard tpo create the splendid display.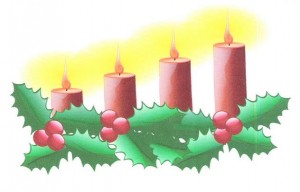 December 15th
10.30am: Gift Service at Immanuel – bring along a gift for distribution to local children's charities.
6.30pm: Carols by Candlelight – traditional service of Lessons and Carols with special music from the choir
December 16th
6.00pm: Carols on the Carpet – join the folk of the local community for 45 minutes of carols and songs  for all the family
December 22nd
10.30am: Carols by Daylight – readings and poems  with music from the choir and congregational carols.
Tuesday 24th December: Christmas Eve
11.30pm: Watchnight Communion Service
Wednesday 25th December Christmas Day
10.30am: Christmas Day Family Celebration – a 45 minute service to share the joy of Christmas morning.