Access to the Church buildings
The number of users of our premises is increasing,  so if you are planning to 'pop in'  for whatever reason, it may be useful to check that  the room you want to enter is available. Here are  charts  showing both the regular and 'ad hoc' bookings:
Immanuel Regular Bookings 2022
Covid Regulations 
Although the wearing of face masks is no longer mandatory ,  we would ask all users to be courteous to others  in the building  and bear in  mind that  other  users may  be 'vulnerable'….   The use of a face masks in the 'communal areas'  might  be considered…… atrium, corridor and toilets.
We will continue to place hand sanitizer at the entrance for you  to use if you wish.
Each organisation hiring the premises must determine their own 'rules' concerning the wearing of masks, distancing and ventilation within their allocated room(s).  
Volunteer needed – Old Town Partnership of Churches
Do you have a passion for Ecumenism, a commitment to our rich heritage in Old Town of belonging to the oldest Partnership of Churches in the Country, and a couple of hours a month to spare?  Immanuel needs a representative on the Old Town Partnership Focus Group.  It meets monthly – although there was some talk about meeting bi-monthly before COVID struck and it doesn't usually meet in July and August.  There are also the Full Partnership Council meetings – two or three  a year – which take place in the evenings.   The meeting is made up of the Clergy of our Churches and one lay person from each Church, plus the officeholders: Chair, Secretary and Treasurer.  Your role would be to engage with the discussions, bring any ideas/projects etc back to Immanuel  and to take any comments/ideas to the Focus Group from Immanuel. 
Do please give this some thought – it's an important role and not a particularly onerous one if you enjoy interacting with people and have a bit of time to spare. Please speak to Anne Farrow, Steve Brain  or Robert if you would like to know more.
 Dates for the diary:
November  6th :
11.45 – 12.30  Church  meeting in the church  hall  following the morning service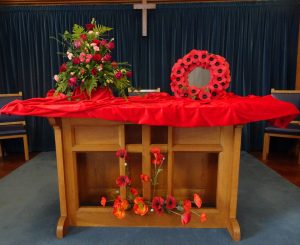 November 13th: 10.30 am.  Remembrance Service.  Join with  us as we connect  with the cenotaph in London
November 13th: 5.00 pm.   Remembering Loved  Ones.  A service in  which  we recall  those who  have passed away  in the    past  year  or so.
November 20th: 10.30  am. Pulpit Exchange. We welcome a visit from  Revd. Rachel Collins minister  at  Bath Road
November 27th:  10.30 am.   Advent Service
November  27th : 5.00 pm.   Advent Service.  "From Darkness to  Light"  –  a joint  service for our Partnership at Immanuel
December 18th: 10.30 am   Lessons and Carols.  Special  music   and readings for Christmas
December  25th: 10.30 am   Christmas Celebration
January 15th: 10.30 am  A Service of Lessons and Carols for the New Year