Check the Calendar….
Following the announcement by the Prime Minister (31st October 2020) for the time being, until further notice, because of the pandemic restrictions, all church groups and societies that use our premises are 'on hold':  the ban will include our Sunday morning service and those of the Romanian Church.  However,  the church elders  have approved the continuation of the NHS Blood Donor Service which holds regular sessions in the church hall. 
Please note the following:
Church open for private prayer
During lockdown, Immanuel will be open for private prayer every Wednesday between 2.00/3.00
Please feel free to pop in.
Sunday 6th December
After  four weeks of 'lock-down' Immanuel will resume our pattern of worship on Sunday 6th December . The service will take place under 'covid' restrictions  and we do ask those attending to adhere to social distancing and to wear face masks throughout the service. Although we will be listening to pre-recorded hymns, members of the congregation are requested not to join in the singing. See below for more detailed information.
Advent Sunday 29th November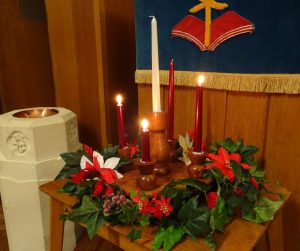 Although  we are unable to meet to celebrate Advent in the normal way, a small group of church members has met up to record a service especially for Advent Sunday.
The sound file and order of Service  will be posted  here on the web-site  on Advent Sunday. With readings, poems, a reflection and some wonderful seasonal music we hope you will enjoy listening to it.
Sunday worship
As from 6th December there will be one service each week and this will be held in the church itself starting at 10.30am. 
In terms of practical arrangements there are a number of points to be noted:
In order to facilitate contact tracing should the need arise,  please note that  your attendance will be recorded and the record will be held for a 3 week period.
Under recent government regulations it is mandatory  to wear  a face mask (some masks will be available for those who do not have one or have 'forgotten')
Please enter by the main door to the church nearest the car park (NOT the foyer/ atrium entrance)
A sanitizing point will be just inside and we shall expect all those attending to use sanitizing gel before going into church.
We will be  adhering to a 2 metre  distancing rule which will mean limiting the numbers sitting in any one pew to 2 people. Stewards are there to help you but it is unlikely you will be in your 'favourite seat'.
For health and safety reasons, the church cushions have been removed, if you need one, please bring your own cushion with you and take it away at the end of the service.
You will be given  an order of service and weekly news sheet and we do ask you to take this away at the close of worship and dispose of it  at home.
Although there will be music during the service using recorded hymns, no singing will be allowed .
At the end of the service please leave according to the instructions of the stewards (again, sanitizer will be available as you leave).
Access will be available to the toilet used by the disabled  but to no other facilities.
Much as you will be tempted, we would ask you not to remain in the church to chat but please carry on any conversations outside the building at an appropriate distance from each other.
Currently morning worship will be the only use of the premises that will be permitted and  there are no plans to open the premises for other groups and users until we have full guidance from the government and/ or the URC synod.
If you wish  to hear a recording of a service, they are available on the Recent Events page together with accompanying orders of service.
Note:
We are extremely grateful to the small group who have prepared our risk assessment and have made plans for these  steps back to normality.
Currently,  of course, the premises are closed to all users  (because of security, health and safety as well as insurance purposes) so please respect our request that you do not enter the premises. 
A small number of people have been authorised to enter the building from time to time, to check that all is well inside.  If you feel you have a need to access the building, please contact the Minister  or Sue Goodall.
Thank you.