Access to the Church buildings
The number of users of our premises is increasing,  so if you are planning to 'pop in'  for whatever reason, it may be useful to check that  the room you want to enter is available. Here are  charts  showing both the regular and 'ad hoc' bookings:
Immanuel Regular Bookings Sept (3)
Christmas Services at Immanuel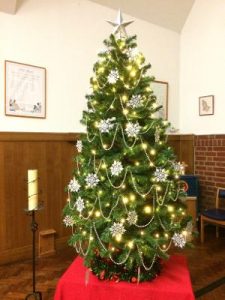 Here are the principal services planned to celebrate Christmas at Immanuel.
Other events will be taking place throughout our Partnership of Churches in Old Town, so look out for additional advertisements for services, carol concerts as well as other events .
28th November: 10.30 am      Lessons and Carols for Advent
                               6.30  pm      Joint Partnership Advent Service at Christ Church
12th December: 4.00 pm        Lessons and Carols ( a traditional carol service with music by the choir)
19th December: 10.30 am         Carols by Daylight ( more informal service )
20th December: 6.00 pm        "Carols on the Carpet"  a community carol-sing in the church  hall
24th December: 11.30 pm       Midnight Communion on Christmas Eve
25th December :  No services at Immanuel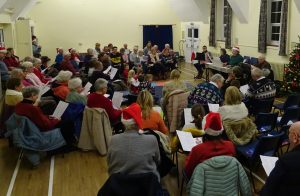 Carols on the Carpet 2019 (no covid 'distancing in those days!)
50th Anniversary of the URC

For some of us it seems like only yesterday that the old Congregational and Presbyterian Churches 'disappeared' and joined together to  create the United Reformed Church. 
Currently Immanuel has yet to decide precisely how we will be celebrating this milestone but, as a denomination, plans are afoot for some special events.
Take a look at some of the projects as they stand at the moment : https://urc.org.uk/50th
If  you have ideas how we might mark the occasion  here in Swindon have a word with Robert or any of the elders……we'd love to hear what you think.