Check the Calendar….
Apart from Sunday services there is nearly always something happening on the church premises throughout  the week.  Here are the regular bookings as they stand at the moment:
Immanuel Regular Bookings Sept 2019
In addition to the regular groups that meet at Immanuel , there are also a lot of 'casual / ad hoc bookings' of the premises, so if you are planning to do anything at the church, it is advisable to check the link below…….. it may save you a wasted journey, as the room you want may be booked and in use.  The run-up to Christmas looks heavily congested!!
Immanuel Regular Bookings notice Board
February 29th
Coffee Morning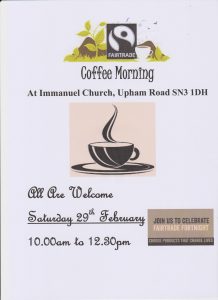 In celebration of "Fairtrade Fortnight" we are holding a special coffee morning at Immanuel between 10.00am  and 12.30pm on Saturday 29th February
There will be lots of Traidcraft goods on sale to tempt you – everyone welcome!