Check the Calendar….
Apart from Sunday services there is nearly always something happening on the church premises (look at 'church organisations' and 'community links'). In addition to regular groups that meet, there are also a lot of 'casual / ad hoc bookings' of the premises, so if you are planning to do anything, it is advisable to check the link below…….. it may  save you a wasted journey!
Christmas 2018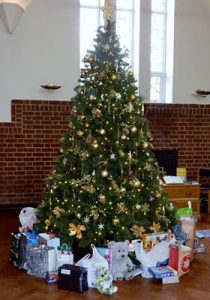 For those of you  who haven't yet seen it, our Christmas trees this year look absolutely resplendent  – both in the church and the atrium (thank you June and Sam!).
All the services for the Christmas period are listed in a leaflet published by the Partnership, so do pick one up to remind yourself when and where events are happening – why not take some  for your  neighbours and drop it through their letterboxes?
Surrounded with gifts that will head out to Women's Aid our tree looks really festive this year!
23rd December: 10.30am
Carols by Daylight
Following the previous Sunday evening's carol service,  the 23rd December in the morning will see  Carols by Daylight.  This is always a very popular service with extra items by the choir and lots of carols for you to sing.
17th December: Carols on the Carpet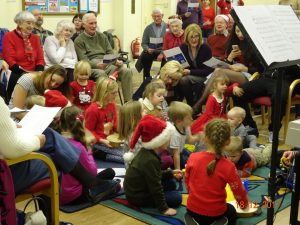 As is now a custom at Immanuel we will be holding the really popular "Community carol-sing" in the church hall on the 17th December.
Due to begin at 6.00pm, for 45/ 50 minutes  Geoff will be leading us all in  popular carols and songs for the season, so do come along and meet up with others from the locality  – wear your Christmas jumpers and hats and be prepared for some fun. Refreshments  (tea and coffee) will be served at the end.  To save our shoe leather, this year we are not distributing  letters round the area   but relying on posters and word of mouth – so please spread the word!
12th January  2019
With the excitement of celebrating our jubilee year as a Partnership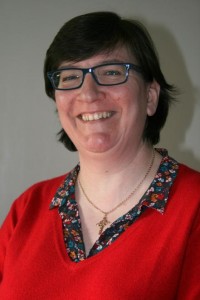 of churches, it may have escaped the notice of many church members that 2019  will mark the 80th anniversary of the opening of Immanuel on our site in Upham Rd. A number of events  will be taking place during the year but the first will be the visit of our Synod Moderator, Ruth Whitehead, who will lead worship on Sunday 12th January. Later in the year, nearer the actual anniversary in September one of the Moderators of General Assembly, Derek Estill, will be at Immanuel for the weekend.
r: Revd Ruth Whitehead, Moderator of the South West Synod
Monday 14th to Saturday 19th January
Beauty and the Beast : Immanuel's annual pantomime will be held in the church hall each evening at 7.30 (with a Saturday matinée at  1.30pm). Together with the Estelle School of Dance our Dramatic Society will be pitting on the usual lavish production. Tickets are still available (priced £6)  so ring 01793 520169 to reserve your seats.
22nd January  to 2019
Faith & Dementia Workshop  10.30am – 12.30pm

Following the invitation of the Elders of Immanuel,  this workshop  has been set up to discover how dementia can affect members of our community and how to support them.  It will give the opportunity to share experiences and think about how we might be more 'dementia-friendly' at Immanuel.
The guest speakers are Dr Jennifer Bute – a former GP who was diagnosed with early onset dementia  and Revd Dr Margaret Goodall  who is a specialist in the spirituality of dementia and who has written and contributed to books on ageing and dementia.