For the time being at least Immanuel is no longer able to hold its normal worship: but Robert is still preparing his regular 'reflection'
We will continue to post these reflections each week, here on the web-site. So please use it for your own personal devotion.
A recorded service based on this reflection is available on our  "Recent Events" page.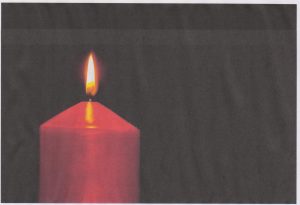 Reflection for Sunday 29th November 2020    
                                                  ADVENT I
Readings:      Isaiah 9     Micah 5
Let us take one more step
This service is based on the Bible Readings, the Hymns, and the Poems (in the order of service). They all come together to create a message.
Advent brings us face to face with a story we know well, or at least we believe we know well, but there is always room for surprises. A year ago, when we celebrated the last Advent service, none us could have guessed what was to come, and here we are today, having incorporated into the daily conversations words we didn't know existed then: COVID19, social distancing, lockdown. And here we are, end of November, about to embark of this new/old journey, and the same way last year I could not have anticipated what came, this year I wonder what will come.
This first Sunday of Advent is guided by the prophets, reminding us it is a story that began long, long ago. And it began with promise: from darkness to light, from the smallest town of all to the place where the Messiah is to be born. Nothing ends up being what it seemed originally, and this is where we are today.
If we take a look at the poems, we come across surprising moments. The Coming – where the Son sees "a scorched land of fierce colour…a bare hill, and many people waiting", and as the Son sees all this, he says "Let me go there". And then the second poem, Come-God-with-us which tells us of God who braves our rejection and hurt, who cradles us in arms that never grow weary, that lifts us up when we fall, and ends O Come, o Come Immanuel, and we will all rejoice.
This is the journey we are one. We never know what is to happen, but we know for sure that we do not travel alone. We are part of the wide world family of God, and we are loved by God. It is also a journey, that well know invites us to "Prepare" as the refrain from the Manchester Carol says. We also need to prepare for this time, to reflect on the past, recognize the present and walk ahead in the promise of light.
God who takes the human form, and shines the light that lightens the way, and for whom even the smallest is important. So the challenge to us is to take one more step on this journey as Advent is the beginning of the way, which will lead to Christmas, and beyond. And we will discover what comes, and we are called to be part of the peace that is proclaimed and lived.
We choose to be part of this, and we will make a difference, so we keep on going in faith, in hope, in love. And "God with us" will always be with us. Amen
Robert