December 31st
The unexpected snowfall prior to Christmas had meant that the services planned for 10th and 17th December had been rearranged, so in a slight change from the plans, Immanuel held a post Christmas "Carols by Daylight" event.  As usual, the choir was 'on form' and the congregation (with lots of visitors) joined in  and sang favourite carols with great gusto, with  readings and poems to intersperse the music, it made for a thoroughly delightful act of worship that was  appreciated by everyone. There were many comments  on 'how lovely it was to still be singing carols after Christmas', so who knows, we might even do it again that way next year!
December 24th and 25th
Well-attended services on both Christmas Eve and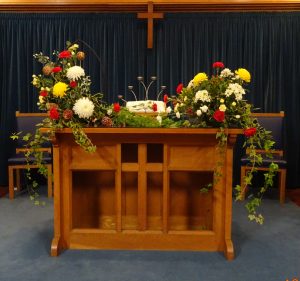 Christmas morning suitably celebrated the birth of our Lord, though in very contrasting ways. The midnight communion service was beautifully reflective and the emotion of the night was heightened  by a wonderful solo by newest choir member, Mario, who performed the classic Christmas song,  "O Holy Night"; while Christmas morning saw fun and games with children's presents being displayed for all to see and enjoy – we even got to hear what some of the adults had been given for Christmas!
As always it was a joy to meet up with old friends who popped in for one or other of the services and  we were blessed with  quite a lot of 'newcomers'  – always heartening to see.
December 18th: Carols on the Carpet
(Well we've never held it in the car park so we felt we ought  to be honest!)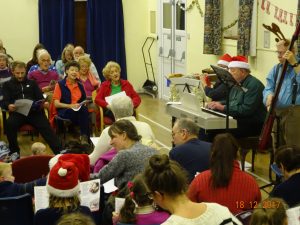 Once again the church hall was well packed with folk from the neighbourhood and a great time was had by all as Geoff led us in a medley of Christmas songs and carols. This year, learning from experience, we held back the musical instruments until towards the end – just as well as there were some very enthusiastic drummers determined to make themselves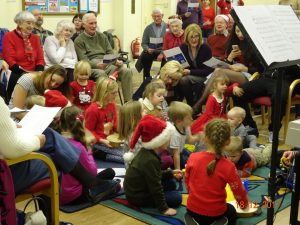 heard!  Warm mince pies were  extremely well received at the end of the session  and for once quite a large number of friends stayed on to chat – everyone was so grateful for the welcome  and lots of very complimentary comments were passed on to our musicians, Geoff, Jenny and Andy. Another great event!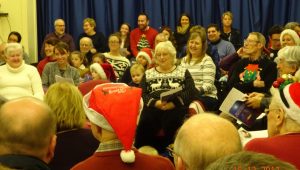 December 17th
Lessons and carols: a very well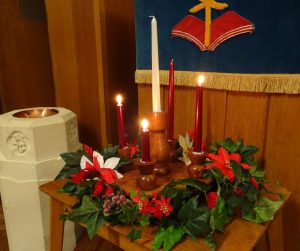 attended morning congregation found that the choir was in fine form as they performed the carols that snow had brought a halt to last week! And people blocked by snow last week brought even more gifts brought in for distribution to those in need…Immanuel folk are generous indeed!
December 13th

The annual Carol Service of the Women's Fellowship took place today and as you can see, a good number of ladies braved the rain and cold to enjoy the carols and readings (and also the tea that followed!)
December 10th
A spendidly decorated  Christmas tree greeted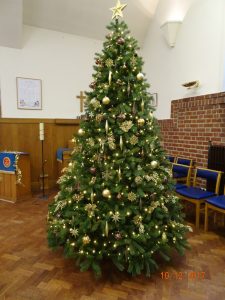 us all on Sunday 10th (thanks to those who spent so much time working on it), and  despite the snow and ice that caught us all unawares, the morning service went ahead (with  reduced numbers it has to be admitted). During our toy service,  a wonderful selection of toys was handed in which  have already been taken out, and we know will be greatly welcomed by deserving children on Christmas morning.
Sadly the evening service – the traditional 'Carols by Candlelight' with special music by the choir  – had to be postponed, as the weather was really treacherous. We are looking to find a date for some of the music to be performed- though it may be after Christmas!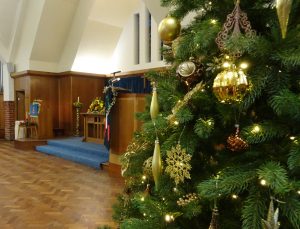 November 12th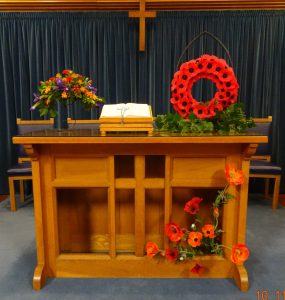 Along with the rest of the country we at  Immanuel marked our remembrance Service on the morning of 12th November. Despite a minor glitch with the sound system we were able to link up by radio with the  ceremony taking place at the cenotaph in Whitehall and were just in time to catch the classic sound of Big Ben striking the start of the two minute silence, and thus joined the whole country in making our act of remembrance.
The evening service that day took the form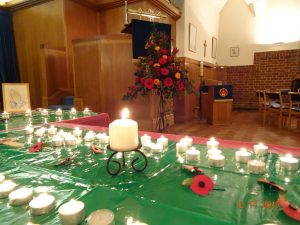 of what is now a regular feature in the calendar: "In Loving memory" is a moving service when relatives of those who have passed away in the course of the last year are invited to light a candle in their memory  – a flame that shows that the memory still lives on.  It is a service that is greatly appreciated and is one simple way we can show our support for those who mourn.
November 5th
During our Church Meeting we formally adopted the "Active Church Profile" (or LMMR) which has been drawn up over the past year using contributions from all the church groups and committees and which outlines the life of Immanuel. At the same time the meeting ratified the brief Vision Statement which  has been prepared from it, and which will be the base of our thinking and praying in the coming months as we look to the future.
If you wish to peruse the profile or statement, the following link will provide you with a copy electronically, and which you are welcome to print.