26th January: Annual Visit of The Aldbourne Band

An almost packed church was once again 'wowed' by the brilliance of the band on the 56th annual visit to Immanuel (yes, they've been coming every year in January  since 1963!)  Under the baton of their new resident conductor, Glyn Williams, their musicianship just has to be admired. The selection this year was all very modern – John Williams, Duke Ellington, Paul McCartney, Billy Joel……  and feet were tapping from the first crashing chord of "Star Wars"  to the  final note of their amazing encore number. I mustn't forget to add that their guests this year were none other  than Immanuel's church choir who gave a wide range of both sacred and secular songs (never before has the church seen so many teddy bears gathered together in a startling version of the Teddy Bears' Picnic!) Added to that, Geoff Gleed had kept a little secret to himself as  he slid on to the organ stool, and with the band,  performed a brilliant rendition of the Saint Saens organ symphony. It all made for a wonderful night of music making: if you weren't there, you really missed a great night out.
22nd January: Faith and Dementia Workshop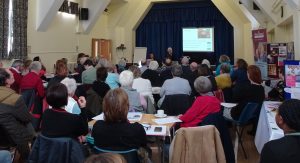 With 75 or more people present, this remarkably well-attended workshop had been organised at the invitation of Immanuel's Eldership, by the Public Health Dept of our Borough Council, and involved professionals and experts across the sector. With 'attendees' coming from churches and other faiths across north Wilts,  it gave ample opportunity  not only to hear and receive good advice, but also, importantly gave us the opportunity to share.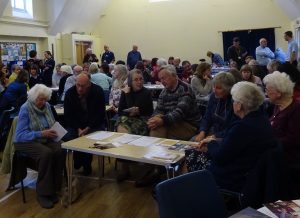 Two speakers in particular stood out: Dr Jennifer Bute a GP from Somerset and herself diagnosed with alzheimers, and then Rev Dr Margaret Goodall; both gave really useful advice on how to support 'faith' through the journey into dementia for those diagnosed and for carers. For Immanuel it was the first step on our journey and it is to be hoped that we will be able to develop some of the ideas put forward. A second workshop may be possible later in the year.
Right: some of Immanuel's members consider implications for our church.
20th January: Festival Fifty – What a Birthday!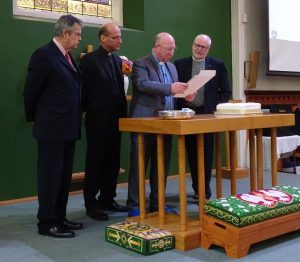 This Sunday saw two remarkable joint services that marked the 50th anniversary of the founding of our ecumenical partnership. In the morning we met at Bath Road Methodist Church and were joined by the mayor of Swindon and our local MP. During the act of worship, our ministers signed a 'golden pledge' to continue to work together and where Martin Palmer (son of  'founding father' Revd Derek Palmer) reminded us, in his fathers words……
"…to be different is not to be wrong.   Ecumenism rejoices in the fact that we can worship in different ways and can affirm and hold to our way, without denying the validity of the way of others".  In a good-humoured address full of anecdotes, he then went on to urge us to look beyond our partnership boundaries  and be a force for change in a world that is in desperate need.
The evening service at Immanuel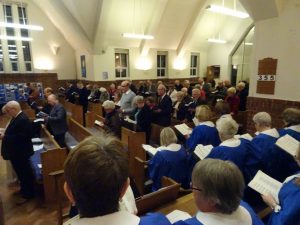 marked the Week of Prayer for Christian Unity and in a more reflective act of worship Rev Dr. Susan Durber, Moderator of the Faith and Order Commission of the World Council of Churches, reminded us of the need to pursue justice in God's broken world. During the service we each made a personal pledge to do what we can in our own small way to achieve this aim.
Right: a well-attended  evening congregation
Below: Our Golden Pledge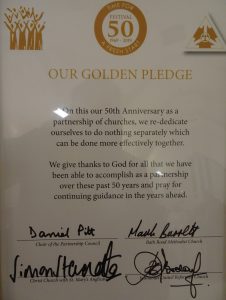 The Prayer with which Martin Palmer closed his sermon:
Lord God, we thank you for calling us into the company of those who trust in Christ, and seek to obey his will.
May your Spirit guide and strengthen us, in mission and service to your world: for we are strangers no longer, but pilgrims together on the way to your Kingdom.
13th January: Immanuel's 80th Anniversary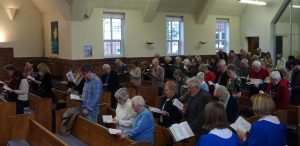 Although the anniversary of the opening of the church is not until September, we wanted to mark the 80 years that have passed since the foundation stones were laid. A well attended service had hoped to welcome our Synod Moderator, but sadly she was laid low with back problems and so the minister stepped in to lead the service using her notes. Some rousing hymns and excellent singing by the choir in the introit ("Christ is our Cornerstone") and the remarkable "Then shall a star arise!" by Mendelssohn as the anthem set  the tone for what was a memorable service. A particular highpoint was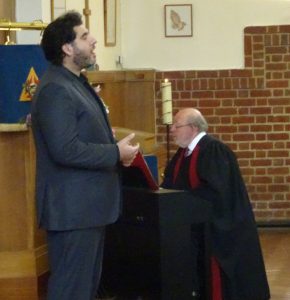 the very moving solo by our peripatetic choir member Mario (not only a local GP but also a professional opera singer) who performed the well known "I'll walk with God" from the Student Prince. It all made for a fitting way to celebrate the faith of our forebears as well as  look to the future.
Right: Dr Mario  in fine voice
Christmas Services
As always, Christmas was truly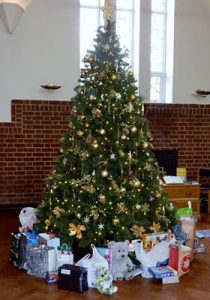 celebrated at Immanuel, with two carol services by the choir, a midnight communion and a special family service  on the day itself not to mention the gift service earlier in December when a huge pile of presents was donated that were taken out to Women's Aid.
Right: our splendid Christmas tree surrounded with gifts that were taken out the next day to families in need.
December 17th: Carols on the Carpet
Even if we didn't send out a thousand invites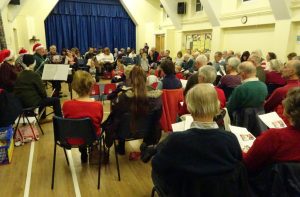 this year, the word certainly got around the neighbourhood and we still saw well over 80 in the church hall for this annual event. Certainly the numbers were boosted by a good turn out of Immanuel folk but there were a lot of people from the local community who had spotted our banner and came along for a good sing.
Under Geoff's dynamic leadership  Jenny, Kay and Andy led us all in a range of traditional carols and songs  and needless to say the children joined in with all their percussion instruments and tried to raise the roof!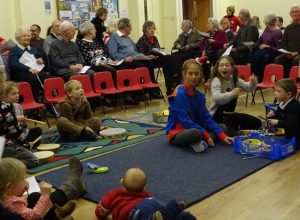 (Left)  You can see why the event is called "Carols on the Carpet" – Immanuel's car park is not  so hospitable at this time of the year!
After  45 minutes of hard singing we were all ready for a drink and a warm mince pie (thanks to Liz Gibney and the team) and it was great to see how many stayed behind to chat.
As a little 'bonus' all the children got a little gift to take away-  a pre-Christmas treat.
All in all: another successful event!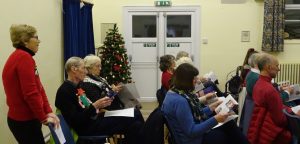 December 9th: "The Journey"
Not strictly an "Immanuel event", as it was very much a partnership venture, but it certainly involved a lot of Immanuel folk:  the dramatized story of Mary and Joseph's trek from Nazareth to Bethlehem took place through the streets of Old Town twice on Sunday 9th December.
Starting off at Lethbridge Rd School (that served as Nazareth!) the heavily pregnant Mary together with Joseph took the long walk up Avenue Rd where they were greeted outside Bath Rd Methodist Church by the heavenly host (perhaps not so 'heavenly' but certainly a host of assorted singers from choirs  in and around the partnership).
It was there that they found a donkey kind enough to carry Mary the rest of the way to Bethlehem, and from where they were followed by a flood of people.
Thankfully the Wilts Constabulary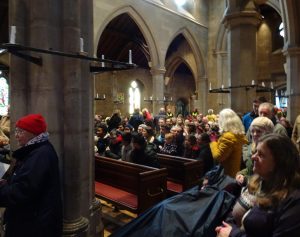 were on hand to divert traffic  which was just as well as the mass of followers numbered well into the hundreds at this point  and numbers picked up as they moved on into the chaotic bustle of Bethleham itself  (Wood St doubled up very well, but it has to be said was slightly lacking in the atmosphere of a Middle Eastern township!)
From there the weary couple managed to find shelter in the only space available (the chancel at Christ Church) and while the angelic voices were still singing outside,  the miraculous son of Mary was born.
Much like the events 2000 years ago, things  didn't quite go quite according to plan  and the waiting mass of people outside in the cold was invited inside  to witness the Christ child even before the 'herald angels' had sung, but  a rousing rendition of the Alleluia Chorus rounded off the event, and in the extremely large congregation many were the tears of emotion that were shed….and as for baby Jesus – "no crying he made".
November 18th
Following requests from several members, please find below a link to the prayers  given by Roy Lowes used at this morning's service. The theme of the morning had been "The wheat and the tares"
Prayers Immanuel United Reformed Church Swindon 18th November 2018