17th April: Lent lectures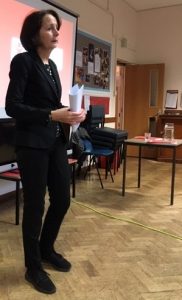 The last of the series saw Fidelma Meehan talking on "Faith through Charity".  After sorting out the technical glitches  with technology she gave us a very passionate presentation on "Save the Children". Celebrating its centenary this year,  this international  charity  was founded by  a very remarkable lady, Eglantine Jebb,  who established the very concept of  children's rights at a time when even human rights were unheard of!  Working worldwide  in 120 countries  each year they  assist over 22 million children and are noted for their work in the areas of Education,  Health Services and  Famine Relief. Perhaps lesser-known areas of their work  are in Child Poverty and Child Protection. In a moving plea to us to continue the fight  for children and their rights  both abroad and in the UK, Fidelma gave some very thought-provoking  facts….  the births of  1 in 3 children round the world are not even registered, so they  have no nationality or status; in the refugee crisis caused by the conflict in the middle east, some 200,000 children have 'disappeared', scattered across Europe and are at risk……needless to say the discussion turned to some very sombre thoughts!
Fidelma mentioned a moving poem  that can be found at the entrance to the UN building:
The children of Adam are limbs of each other, having been created of one essence.
When the calamity of time affects one limb, the other limbs cannot remain at rest.
If thou hast no sympathy for the troubles of others
Thou art unworthy to be called by the name of a human.  
Iranian poet, Saadi
10th April: Lent Lectures
This evening saw the second of two presentations by Liz Griffiths (see below for the first one).  Although still dealing with the theme of 'change',  this time she offered a two-fold approach to the evening: how to plan for change constructively and what the church might offer to the wider community. Liz offered  very constructive advice and tips on how to work towards building consensus when looking to make changes, and  reminded us that we also need to  try to develop Christian discernment – the 'mind of Christ'. One interesting thought was that we should always move towards resistance and never back away, but instead positively seek different views: that way we might even learn. The process is perhaps more important that the outcome – a lesson for us all!
3rd April: Lent Lectures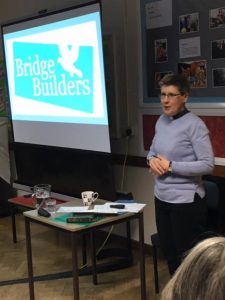 Revd Liz Griffiths who works for "Bridge Builders" led our session this week. Bridge Builders  is  charity that stems from the Mennonite church and works in the area of "conflict resolution", seeking ways to transform conflict in many different areas of life. At a time when conflict and change  is all around us, even in our own UK political scene, it was a very apposite theme to  be considering.
Liz led us to consider the various types of change we meet and how we react and cope with it, giving us several practical exercises to help us understand and analyse our own personal stance. Towards the end of the evening  she moved  on to take something of a theological view of what change entails by looking at Psalms and that  wonderful section of Paul's epistle: Philippians 2: 5-11.
We all came away, if not wiser, then at least more aware.
31st March
Geoff and Liz's 40th Wedding Anniversary: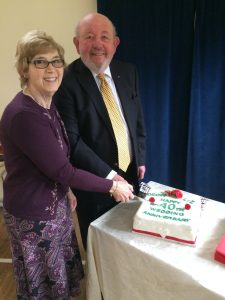 a dangerous precedent to post a photo of a couple celebrating their wedding anniversary, but in this case, with Liz as church secretary and Geoff as organist, I think an exception can be made. It was a real joy on Sunday morning after the morning service to be able to share both their joy and a slice of delicious cake! Best wishes and congratulations to a couple who do so much for Immanuel!
27th March: Lent Lectures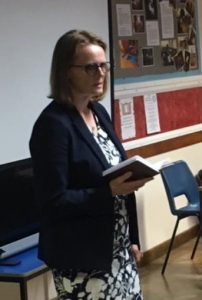 Forty of us crammed into the parlour at Immanuel to hear a presentation by Linda Culling, appointed last  year as the first principal of the Deanery Academy being built at Wichelstowe.  In what was,  unsurprisingly, a highly polished talk, Linda interspersed the story of her own professional development from her school days in Chippenham to her appointment  in Swindon, with  her philosophy of Education and provided ample anecdotes by way of illustration. For Linda, the individual pupil is at the heart of everything she believes in, in terms of education – to strengthen and develop child by offering hope and build self-esteem, and consequently build up the community. It was good to hear, too, where her own faith stands in the sometimes stressful world of Education. Questions abounded afterwards  during which she was able to amplify  her thoughts and ideas.  It was a very good  evening which fully filled the brief  "Faith in Education"
Friday 22nd March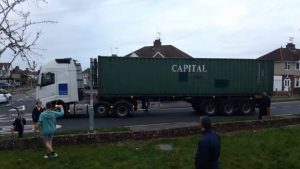 Many of you will be unaware that overnight from 21st to 22nd March our Romanian friends used the church as a very temporary warehouse for all manner of domestic and other goods destined for Namibia. In an act of Christian support to the people of that impoverished country they had assembled a whole container full of items that headed off on Friday 22nd  (see photo left). Robert was there to see it go and assures us all that it really was packed full and has a short video to prove it! Its good to know that yet again Immanuel plays a small role in offering humanitarian aid.
20th March: Lent Lectures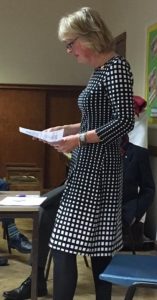 Numbers attending the talk this week were even higher to hear the High Sheriff of Wiltshire, Nicky Alberry, give an impressive presentation on  "Faith and the Law".  Initially she covered her own appointment…. from the arcane 'pricking' by the sovereign and her induction to the Bailywick of Wilts, and then took us through some of the quaint historical facts  surrounding the post – which gave rise to some smiles and laughter. Our High Sheriff then moved on to much more serious matters and the research she has carried out during her year of office into the troubled area of domestic violence. She gave us a very comprehensive overview of the situation as it exists across our county and provided us with some truly shocking stories of the treatment meted out to  victims of coercive behaviour – physical violence, mental and emotional  as well as financial pressures.  It was good to hear of some of the work going on across Wiltshire to support victims of domestic violence (both men and women) and of her own hopes that as she retire that she might be able to leave a legacy of hope. It was clear from the questions and comments from the floor that  it was a topic that had 'hit home' and may well be an issue that as a Partnership of Churches we need to come back to in future months.  It was perhaps a mark of the respect that the High Sheriff has built up in our community that the Mayor of Swindon, Cllr. Junab Ali and his wife felt able to join us for the evening and join in the discussion.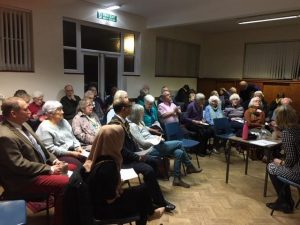 13th March: Lent Lectures
Some thirty or so members of the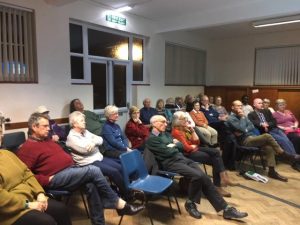 partnership attended an excellent inaugural talk at Immanuel on the evening of 13th March. At the first of our annual "Lectures in Lent " for 2019, the guest speaker was Simeon Mitchell who is the URC's Secretary for Church and Society based at Tavistock  House, London. The subject of his talk was "The Church in the Public Sphere". Since he is also a member of the Joint Public Issues Team that links several denominations working for peace and justice, (URC, Methodist, Baptist and Church of Scotland) he was well-placed to tell us of the work being carried out by the church to pressurise governments. His talk concentrated on the need to be a more welcoming society, a society that places the poorest at the centre of our thinking and a society that looks to creating a world that cares for and shares the planet on which we live.
The interaction and subsequent level of discussion proved how stimulating and challenging Simeon had been.
3rd March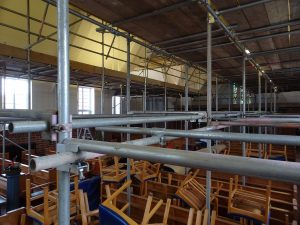 The church itself may be full of scaffolding during the redecoration but services continue as usual in the Hall…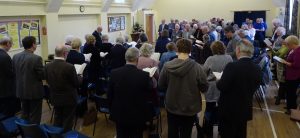 …  even if the minister and choir stayed in 'mufti' a well-attended morning communion service was held  in the church hall and teas and coffees were served in the parlour afterwards. The general reaction seems to have been good:   "We could see one another much better, and not just the back of the head in front"!
26th January: Annual Visit of The Aldbourne Band

An almost packed church was once again 'wowed' by the brilliance of the band on the 56th annual visit to Immanuel (yes, they've been coming every year in January  since 1963!)  Under the baton of their new resident conductor, Glyn Williams, their musicianship just has to be admired. The selection this year was all very modern – John Williams, Duke Ellington, Paul McCartney, Billy Joel……  and feet were tapping from the first crashing chord of "Star Wars"  to the  final note of their amazing encore number. I mustn't forget to add that their guests this year were none other  than Immanuel's church choir who gave a wide range of both sacred and secular songs (never before has the church seen so many teddy bears gathered together in a startling version of the Teddy Bears' Picnic!) Added to that, Geoff Gleed had kept a little secret to himself as  he slid on to the organ stool, and with the band,  performed a brilliant rendition of the Saint Saens organ symphony. It all made for a wonderful night of music making: if you weren't there, you really missed a great night out.
22nd January: Faith and Dementia Workshop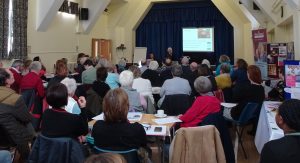 With 75 or more people present, this remarkably well-attended workshop had been organised at the invitation of Immanuel's Eldership, by the Public Health Dept of our Borough Council, and involved professionals and experts across the sector. With 'attendees' coming from churches and other faiths across north Wilts,  it gave ample opportunity  not only to hear and receive good advice, but also, importantly gave us the opportunity to share.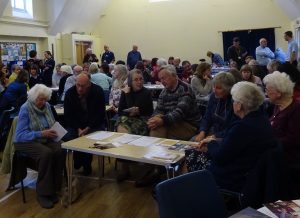 Two speakers in particular stood out: Dr Jennifer Bute a GP from Somerset and herself diagnosed with alzheimers, and then Rev Dr Margaret Goodall; both gave really useful advice on how to support 'faith' through the journey into dementia for those diagnosed and for carers. For Immanuel it was the first step on our journey and it is to be hoped that we will be able to develop some of the ideas put forward. A second workshop may be possible later in the year.
Right: some of Immanuel's members consider implications for our church.
20th January: Festival Fifty – What a Birthday!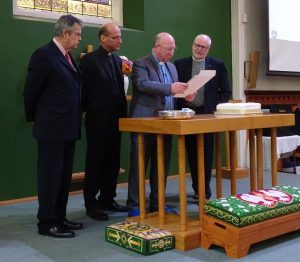 This Sunday saw two remarkable joint services that marked the 50th anniversary of the founding of our ecumenical partnership. In the morning we met at Bath Road Methodist Church and were joined by the mayor of Swindon and our local MP. During the act of worship, our ministers signed a 'golden pledge' to continue to work together and where Martin Palmer (son of  'founding father' Revd Derek Palmer) reminded us, in his fathers words……
"…to be different is not to be wrong.   Ecumenism rejoices in the fact that we can worship in different ways and can affirm and hold to our way, without denying the validity of the way of others".  In a good-humoured address full of anecdotes, he then went on to urge us to look beyond our partnership boundaries  and be a force for change in a world that is in desperate need.
The evening service at Immanuel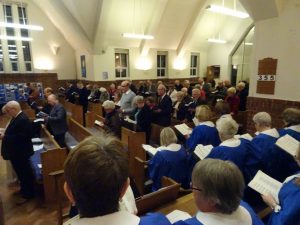 marked the Week of Prayer for Christian Unity and in a more reflective act of worship Rev Dr. Susan Durber, Moderator of the Faith and Order Commission of the World Council of Churches, reminded us of the need to pursue justice in God's broken world. During the service we each made a personal pledge to do what we can in our own small way to achieve this aim.
Right: a well-attended  evening congregation
Below: Our Golden Pledge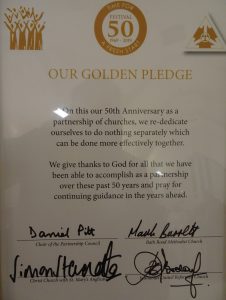 The Prayer with which Martin Palmer closed his sermon:
Lord God, we thank you for calling us into the company of those who trust in Christ, and seek to obey his will.
May your Spirit guide and strengthen us, in mission and service to your world: for we are strangers no longer, but pilgrims together on the way to your Kingdom.
13th January: Immanuel's 80th Anniversary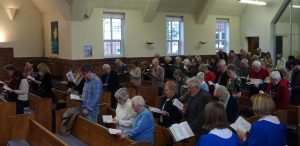 Although the anniversary of the opening of the church is not until September, we wanted to mark the 80 years that have passed since the foundation stones were laid. A well attended service had hoped to welcome our Synod Moderator, but sadly she was laid low with back problems and so the minister stepped in to lead the service using her notes. Some rousing hymns and excellent singing by the choir in the introit ("Christ is our Cornerstone") and the remarkable "Then shall a star arise!" by Mendelssohn as the anthem set  the tone for what was a memorable service. A particular highpoint was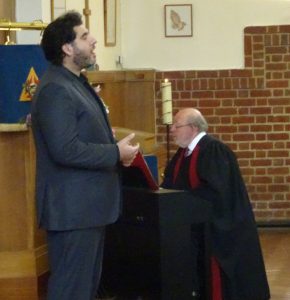 the very moving solo by our peripatetic choir member Mario (not only a local GP but also a professional opera singer) who performed the well known "I'll walk with God" from the Student Prince. It all made for a fitting way to celebrate the faith of our forebears as well as  look to the future.
Right: Dr Mario  in fine voice