October 7th was our Harvest Sunday
As the photo depicts, a large number of gifts was presented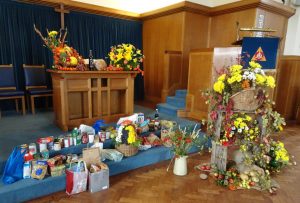 during the morning service. The produce was later taken to Culvery Court for the use of the homeless of the town.  Following a centuries' long tradition, the church itself had been  decorated by our floral art team  who had put together some ingenious  arrangements of flowers fruit and vegetables.
In a slight change from the norm, one of the team had cleverly reminded the congregation of this year's current Harvest Appeal: each of the six main windows depicted one of the aims of the appeal – supporting the  school in Sri Lank (see below).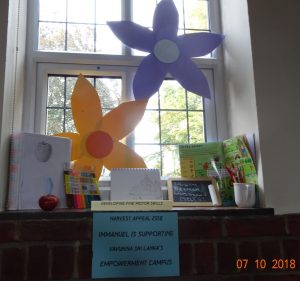 September 16th saw the launch of our annual Harvest Appeal. This year we are hoping to raise in excess of £3000 to support work in a school for children with special needs in Vavuniya Province of northern Sri Lanka. The school is run by SEED (Social  Economic and Environmental Developers) a non-profit-making, non governmental organisation that has been working in the area since 1995. Currently about 70 children attend the school with a wide range of various disabilities (autism, Downs Syndrome, cerebral palsy and hearing and speech impediments). Our hope is that our contribution will help  install access ramps, a hand washing area and  also  repairing  / replacing playground equipment. A full display with lots more information is in the church – do take a look.
(September 2nd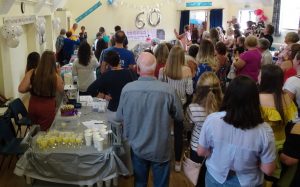 Not strictly an "Immanuel event" but a gathering took place on Sunday afternoon to celebrate the 60th anniversary of the Estelle School of Dance which has used our premises for most of those 60 years. Principal Pat Bennet has long been an associate of the church and was overjoyed to meet up with well over a hundred current and former pupils and friends of the school (including at least one original pupil of 60 years ago!)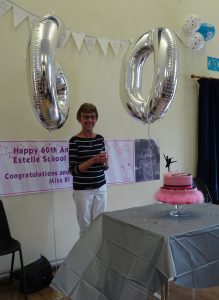 A merry time was had by all as memories of past shows and dance vents were recalled and shared .
Pat herself has been quite ill over the summer and therefore the occasion was all the more a celebration of her return to good health and by all accounts dance classes start back once the schools begin and then it will be all systems go for the Immanuel pantomime and the Estelle Wyvern Production in March of "The Slipper and the Rose"
19th August: "Summer Sing-along"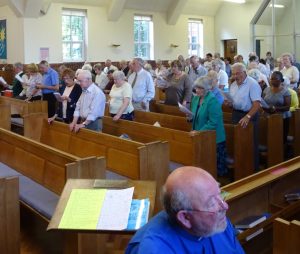 In what looks like becoming an annual event in the Partnership calendar for August, on 19th August, it was Immanuel's turn to host the joint evening service and members of all the churches gathered to join in some rousing singing.
Accompanied by two keyboards, organ, bass, flute  and drums the congregation nearly lifted the roof with some splendid  singing of favourite hymns.
Interspersed with readings and poems, it made for a friendly and relaxed  45 minutes of worship.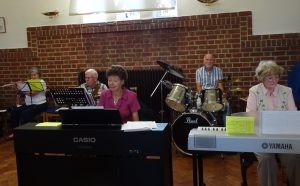 Thanks go to Geoff, and all the musicians for giving it 'some swing'  – we are so lucky at Immanuel to be able to call on their skills that they give so freely.
(Right: Kay, Andy Shelly Keith and Julie made a great sound: so professional too!)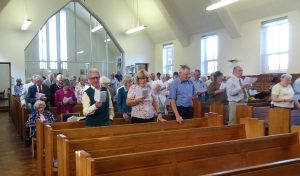 It was good that so many folk stopped on afterwards for a cup of tea or coffee : friendships were renewed and in some cases made for the first time! It all made for a really pleasant evening.
7th August
Church Working Party
Sorry, no photos to show, but a dozen or so church members and friends spent the morning working on tidying up the grounds and doing little jobs around the interior as well. Hedges were trimmed, weeds pulled up, roses pruned, carpets cleaned and floors sealed. It was hard work on a very hot day, but it was well worth it judging  from the favourable comments we've heard since!
July 28th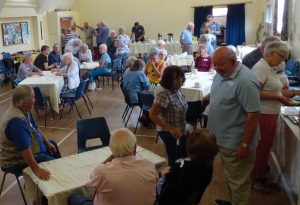 Something of an 'innovation' at Immanuel, our Outreach Committee organised a "Getting to Know you Better" afternoon for the whole church.
More than 70 members and friends dropped in during the course of the afternoon for a cuppa and a slice of cake and enjoyed an hour or so chatting. New friendships were made and old ones deepened.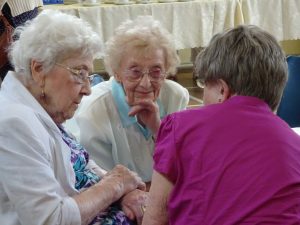 Although we didn't really need any entertainment, members of the Drama Group brought along some old photos to stir memories (and a few laughs as well!) and promote their latest venture planned for September. In addition, Muriel Baker also provided us with a range of photos from various events in the life of Immanuel over the years, so newer members were able to see the sort of things we got up to in the past!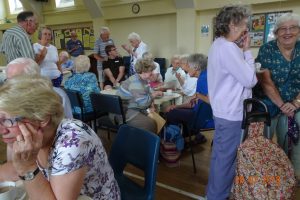 Throughout the afternoon there was a constant buzz of conversation and it was quite evident that people really enjoyed themselves.
The result? lots of smiling faces and plenty of requests to do it again! So here's to the next time!
June 3rd
The morning service saw the ordination of two new Elders at Immanuel – Roy Lowes and Eddie Thomas  – you can see their photos on the "Who we are" tab under Immanuel United Reformed Church'.
April 19th: Church Annual General Meeting
Among the items of business at the church AGM were the re-appointment of Liz Gleed as our Church Secretary and the re-election of Maria Kawonga and Frances Strange as Elders. It is particularly pleasing to report that with the election of two new Elders, Roy Lowes and Eddie Thomas,  the eldership is  now the largest it has been for some years.
In the vote on whether to ask for authorisation of the Swindon Registrar to use Immanuel as a venue for same-sex weddings, although a majority of members was in favour, the necessary majority of 75% was not reached and as a result the  motion was not passed.
One important decision was passed, however, and shortly the church will be asking our South West  Synod for permission to make our own arrangements for the letting of our premises; this will regularise the legal status of the lettings process at Immanuel. A sub-committee will be formed to organise the necessary application.
April 1st: Easter Day
As always the church was decorated most beautifully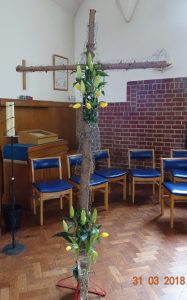 by our floral art team to help us celebrate this important festival.
During the service, following a tradition that dates back some number of years at Immanuel, members of the congregation had been requested to bring a single bloom or small posy to decorate the old Christmas tree that had been turned into a very rough cross.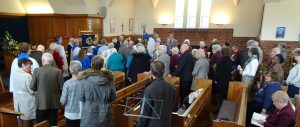 In a very simple but moving act almost the whole congregation came forward with their gift and our rugged cross was totally transformed…..
T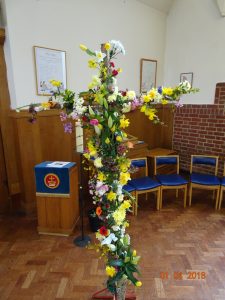 At the close of the service the cross was carried outside to spread the
message of the good news to passers-by and the locality around.
March 18th
It seems odd to be writing about what turned out to be a "non-event" in this 'Recent Events' page!  But it was a great pity that the joint act of worship planned with our friends from the Romanian Pentecostal Church had to be cancelled – the heavy fall of snow overnight on Saturday 17th meant that very few of them would have been able to attend and our numbers would have been greatly diminished as well. We are looking to identify  a date not too distant to hold the service, so watch this space!