20th June: "Virtual Coffee Morning"
The church elders have been holding regular meetings via "zoom" so we felt if might be a good idea to hold a 'zoomed coffee morning for those Immanuel members and associates who wanted to meet up via their computers. Granted it wasn't quite the same experience as we might have had chatting over coffee in ther church parlour, and we did have to make our own coffee and provide our own biscuits but there was a real buzz as some 27 of us gathered to swap news. 
All of us really appreciated the chance to talk and more importantly see each other – for some the first time in over three months!  It was the overwhelming decision to repeat the event so do look out for the invitation via weekly news (and  it really is very easy to do – providing you have a computer, tablet or smart phone!)
The picture below is a quick screeen shot, so apologies for the poor quality, but it gives an idea who was there ……
30th April: a message from "Traidcraft"
The following message has been received from Traidcraft and seeing that so many of Immanuel's congregation support this vital charity it is felt that we should share the contents more widely…..
…………   A couple of months ago I was in Mumbai, meeting with our India and Bangladesh teams to discuss Traidcraft Exchange's plans for the future. We didn't know then that the lives of billions of people were about to be turned upside down by the coronavirus.  As CEO of Traidcraft Exchange, I wanted to write to share what life is like for the poor people we support in developing countries.

For some communities we work with, the impact of the lockdown has been immediate and devastating.

Migrant workers in Bangladesh and India have been left without work. Not registered for the government support available, and used to living hand to mouth, people are struggling to survive. Many are travelling hundreds of miles on foot trying to get back to their home villages. Our partners have been amazing in adapting our programmes to meet these challenges – running a helpline, linking people up with transport and local support services, and critically, providing food.

Garment factory workers across Asia are also facing extreme hardship. Factories have been closing as orders dry up. Some have not even been paid for work they did back in March. That's why we're calling on UK clothing brands to honour their existing contracts and not to leave workers destitute. 

For others we work with, the impact is less immediate but equally serious.

The crunch point for the farmers we support will come when they need to harvest their crops and sell their produce. Without access to transport and many markets closed, will they be able to do this? How will they navigate a completely new set of circumstances? As yet, we just don't know.

We have never faced a pandemic of this magnitude before nor have we had to manage such unprecedented levels of uncertainty. At Traidcraft Exchange, we are focusing our resources on responding to the immediate needs of communities who are most vulnerable and most affected by this crisis. But we're also turning our attention to how we can support people beyond survival to recover and rebuild their businesses and livelihoods  We wouldn't be able to react so quickly to help those in need without your continued support  – thank you; it really is appreciated.

But as we hope to return to some form of normality in coming months and years, this crisis has reminded us that a return to 'the way things were' is simply not good enough.
The coronavirus is shining a spotlight on the huge inequalities and injustices that lie at the heart of our international trading system. People working at the bottom of global supply chains, have been living in extreme vulnerability and poverty for far too long.
As we look to recover and rebuild for a different future, we are working hard to ensure that it is a better and fairer world that we create. At this difficult time, let me once again thank you, wholeheartedly, for joining us in this journey.
Charlotte Timson       Chief Executive Officer at Traidcraft Exchange                          
        Mailing address: Traidcraft Exchange 5th Floor,  7 – 15 Pink Lane,  Newcastle Upon Tyne  NE1 5DW  UK
Telephone: 0191 497 6445
16th April:  A new banner for Immanuel
With the current full-blown pandemic obviously the church building is closed to all activities including worship, but it does not mean that the church is not active in different ways and one small idea that we have 'borrowed' from our friends at Bath Road is a simple way to identify with the thanks being expressed to NHS workers, carers and all those working to uphold our communities.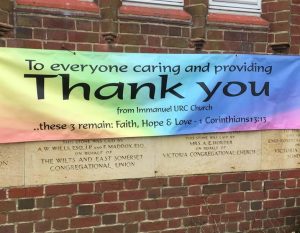 8th March: Partnership Birthday Service
8th March saw the celebration of the Partnership's 51st birthday with a united 10.00 am service at Christ Church.  A debt of gratitude is due to our Focus Group and the team who drew up the order of service……building on last year's memorable service when Martin Palmer challenged us all to take on board the worrying issues of global warming and other ecological matters that  are now to the fore throughout the world,  this year's service was very much in the same mould. It was good too, to see how well it linked up with the theme of our Lenten house groups this year.
Centred on the story of the prodigal son. our visiting preacher, Revd Dr Mark Siddall, took us through the parable and perhaps made some of us see it in a new light – I doubt many had really seen the link between the Greek "oikos" (home) and how it linked with both 'economy' and 'ecology' which  are so closely interrelated.  The whole service was a timely reminder of how important it is to return to the 'family farm'  and find our right place in God's creation  Mark certainly had a way with the children who will doubtless always remember how the wayward son scattered his money around with such gay abandon (what a pity it was only Monopoly money!)
Hymns were well selected and well-known, the prayers and readings all meaningful and it was great to have the update on Messy Church  to remind us of all the outreach work that goes on in our name each month.
My only criticism is that the church wasn't packed….we surely didn't have three full congregations crammed into Christ Church! Those who couldn't make it missed out!
9th February
Today saw the first Church Meeting of the year when we gathered following our morning service. Among items discussed was the need to identify a replacement for David Leadbeater when he retires as Church Secretary at the AGM in April; in addition members were reminded of the importance of nominating up to six names to stand as elders for the next three years.  Reports were given on Messy Church, Buildings and Grounds as well as the Partnership. One other important item  of business was the formal adoption of the Church GDPR policy that covers our data protection issues. Final version DATA PRIVACY STATEMENT February 2020
2nd February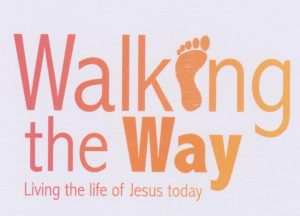 Under the banner of the "Walking the Way" initiative, and on behalf of Immanuel's elders, a small group of members devised and led an innovative service that challenged us all to look at the lovely old stories of Genesis. We were asked four questions:
Do you believe in Genesis?

Are you embarrassed by it?

What questions do you have of it as a Christian?

Do you think science has won the day?
Roy Lowes led a series of different  reflections and we were then asked to consider the same questions and ponder if perhaps our answers had changed.
A follow up session is planned for Wednesday evening 5th February at 7.00pm at Immanuel to consider the theme still further and to share ideas and thoughts.
26th January: Christingle Service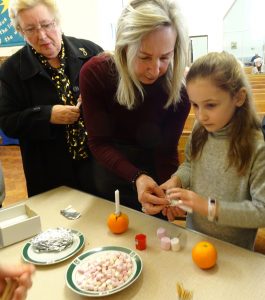 Sunday morning saw Stuart Benjamin once again leading our worship and in characteristic manner he introduced us all to the background of the delightful family-based concept of the "Christingle".  With its origins in 18th century southern Germany the "christkindl"  has become a much-loved way of introducing children (and adults too!) to the ideas of the all embracing love of God, the wonders of the world round us,  and Jesus as the light of the world.  Immanuel's congregation were quick to get involved and thronged to the front of the church to join in the somewhat messy task of creating their own christingles. By the end of morning, what was a very dull, grey day was certainly brightened by the glow of all the candles lit ! A rousing chorus of "Shine Jesus Shine" ended our service as we went out into a miserably wet  day but with  warmth in our hearts.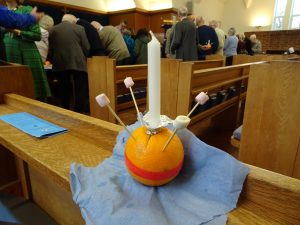 Thank you Stuart!
25th  January:
Aldbourne Band Concert
The fourth Saturday of the New Year once again saw the return of the prize-winning band to Immanuel. For well over 50 years they have made an annual visit to us as their first concert of the year and have always 'wowed' us with some wonderful music. This year was certainly no different, with supporting artists, their Junior Band, they were simply brilliant  and a packed church thoroughly enjoyed the wide range of music and some spectacular soloists. We are truly fortunate that this link with the band exists and as everyone in Saturday's audience will agree, long may it continue.
The band takes its bow at the end of a spectacular night of music.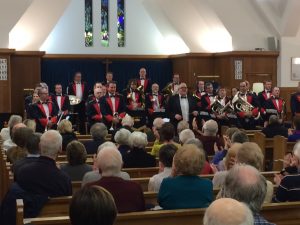 19th January: morning worship
As part of the service today, the choir performed an anthem that was new to their repertoire: "The Work of Christmas" by Dan Forrest. At the end of our worship several members of the congregation asked for copies of the words…so here they are:
The Work of Christmas by Howard Thurman (1899-1981)
When the song of the angels is stilled,
When the star in the sky is gone,
When the Kings and Princes are home,
When the shepherds are back with their flock,
The work of Christmas begins:
To find the lost, To heal the broken, To feed the hungry
To release the prisoner, To rebuild the nations, To bring peace among brothers,
To make music from the heart.
When the song of the angels is stilled,
When the star in the sky is gone,
When the Kings and Princes are home,
And the shepherds are back with their flock,
The work of Christmas begins.
The composer says: " These lines call us not to merely take in the sights and sounds of the Christmas celebration, but to respond by doing our part in working towards the 'peace on earth' we so often sing about……once in a while a text seems to sing right off the page, and this poem did just that"
Thank you to Geoff and the choir for bringing us not just a lovely melody, but some powerfully challenging words.
16th December: Carols on the Carpet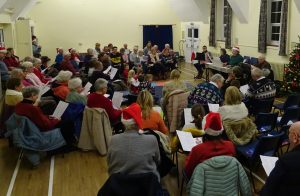 In what has become something of a tradition at Immanuel, the church hall filled up on Monday with folk from the local community around the church for an hour's sing-along of Christmas carols.
Geoff played his usual role of emcee and with him on the keyboard, two flutes and bass a merry time was had by all.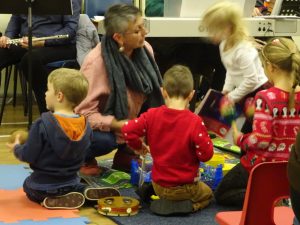 To save everyone's ears we sensibly kept the children's instruments back,  until half way through the hour, but it has to be said that we should have waited until we'd sung "Silent Night" –  few babes (if any) would have slept through it.
There was a good turn-out of church members and friends but the vast majority of the were from the local community and it was great that afterwards over hot mince pies and coffee many of them popped into the church to admire the display of Christmas trees.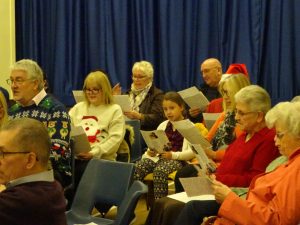 15th December : Our Gift Service and Carols by Candlelight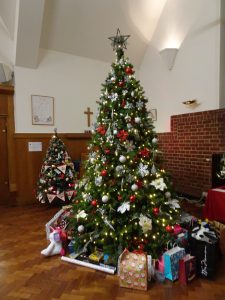 A mountain of presents grew under our Christmas tree on Sunday morning as members of the congregation brought gifts that were later on distributed to the Harbour Project.  This charity has been supported by Immanuel for a number of years,  but it was the first time that they will have benefited by receiving   gifts at Christmas. The Harbour Project works to support refugees and asylum seekers  who find themselves placed in Swindon  and offers them a place to meet as well as all manner of practical help and advice. It was good to see that as well as lots of toys for the children,  the adults had not been forgotten either.
Our evening worship took the form of the  very lovely Candlelit Carol Service with the traditional readings telling the story of that first Christmas  as well as lots of favourite carols for the congregation to join in and,  in addition, some splendid music from the choir. (Sadly no photos, but a recording is available!)
1st December: Advent Sunday 
Partnership Service at Immanuel and Launch of our Christmas Tree Festival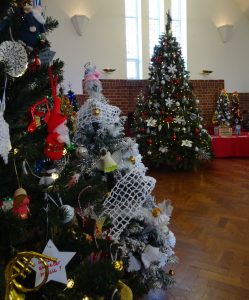 Immediately prior to the start of our Advent service, the mayor of Swindon, Kevin Parry,  was able to join us and formally opened the Partnership Christmas Tree Festival: across the churches of the partnership there was a wide variety of trees on display  representing a huge number of groups and societies in the town.
At Bath Road there was perhaps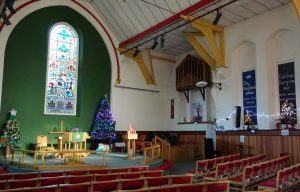 more limited space, but this meant that people have had to work hard an in most ingenious ways to depict their organisation in the window ledges available!
Whereas  at Christchurch, the brave decision was taken to encourage groups to place their trees outside – with luck, before too long I'll manage a photo at night time with all the lights a-twinkling!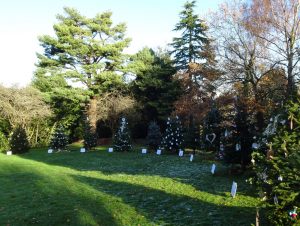 Being rather partisan, I have to say that Immanuel's display looks simply great – congratulations to all the groups and individuals for creating such an impressive impact. It meant that our  advent service was held in a church transformed with so many delightful trees around us. An augmented choir performed several pieces for advent  and it was truly a most uplifting act of worship with all our churches taking part. Despite the bitter weather the turn-out was good and we nearly raised the roof with some rousing advent hymns .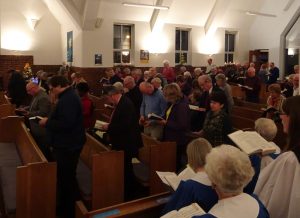 30th November: Partnership Christmas Tree Festival – set-up day!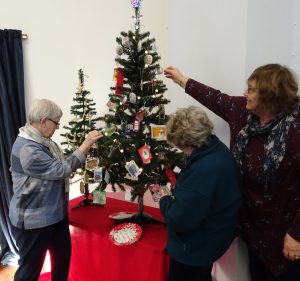 It took months of planning but finally 'set-up day' arrived and across our Old Town Partnership of churches frenzied activity was taking place as assorted groups and individuals set about erecting and decorating Christmas trees…..and what ingenious ideas people came up with!
left: members of the Women's Fellowship busily working on their display of the myriad of activities and talks they've enjoyed over the past year.
By the end of the day there were more than 25 different trees in position around the church from groups and societies with links to Immanuel, and what a sight it was.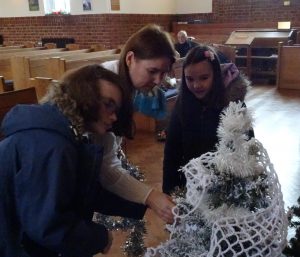 Right: The Young Mums' contribution gets a finishing touch  from Ceri as the girls look on.
During the preparation time it was agreed that as so much work had gone into the displays, that to have them in church just for a week wasn't doing them justice. So although the church will only be open 1st – 8th December for  official viewing, those with trees on display will leave them until Christmas – that way  we can all enjoy them during our Christmas services.
Meanwhile, do spread the word and encourage family and friends to pop in over the course of the next week: the church will be open every afternoon from 2.00pm  – 6.00pm  and with  extended hours on Saturday and Sunday….it will be well worth the visit!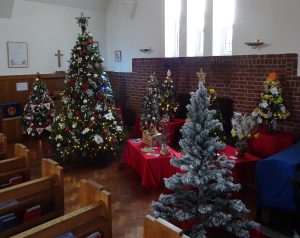 As an added extra, (and thanks to Peter and Liz Gibney and friends) our Outreach Committee has set up a fun board outside the church to advertise Christmas, that may well appeal to the children and young at heart.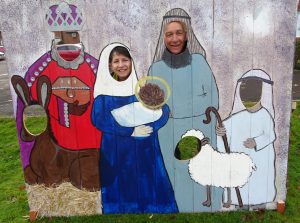 10th November: Remembrance Sunday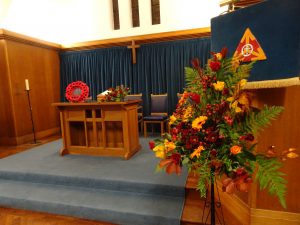 As has been our custom  now for several years, in the lead up to the two-minute silence during our Remembrance Service, via the radio  we  linked up to the BBC broadcast and were thus able to join in with the whole nation in that solemn act. I am sure the whole congregation felt as moved as me when the bell of Big Ben resounded through the church and even more so when the buglers of the Royal Marines sounded out the Last Post.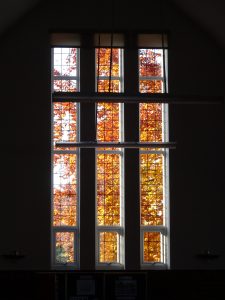 One sight many of the congregation would not have spotted during our morning worship, was the glorious picture presented to the choir in the windows of the prayer corner as the sun in the most spectacular way filtered through the leaves of the copper beech tree out in the grounds of Charlton House.
Our evening service was once again an act of remembrance as we recalled those recently departed from our own congregation or whose funerals have been conducted by either Robert or Geoff  over the past year. Candles were lit in a simple act of   remembrance and we were all uplifted by some very moving music from the choir. Our thanks to Robert and Geoff for two very poignant services today!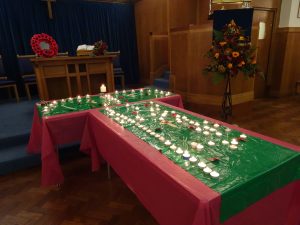 13th October: Our harvest Appeal
Immanuel Harvest Appeal
Sunday 13th October was when we launched our  2019 Harvest Appeal here at Immanuel, and what a challenging event it was!
This year the charity we have chosen to support is ShelterBox, which some of you probably know about.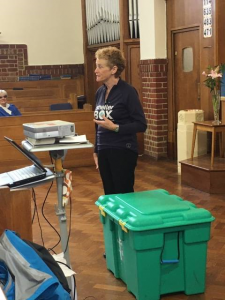 Liz Odell shared the morning service with us and even brought a Shelter Box with her, except for the tent –which is heavy to carry, and not something we could set up as part of the service, otherwise she showed us the content of the Box, among other things tarpaulins, blankets, water filter, pots and pans, mosquito netting, tools, even a floating solar powered lamp which lasts 16 hours. She shared the story of ShelterBox and told us of the many  times they have reached out to victims following  natural disasters, hurricanes and to refugees  – the lot!
Liz herself has been on many of these missions making sure the boxes reach the people in need, and told us how lives are changed, sometimes through a tent which becomes "home" while the destroyed house is being re-built with tools provided; even how the solar light helped a man in Peru, extend his day activities beyond sun set because he now had light.
Everybody felt challenged, and there was a time to ask questions over coffee/tea at the end of the service with the ShelterBox to be explored close up.
This charity carries out amazing work and we pray Immanuel's Harvest Appeal can respond to this challenge, so that with the money received, a number of Boxes can be bought and reach the many people who year by year are affected in so many different ways and that these people may know there are many who care and help.
As usual our World Concerns committee set up a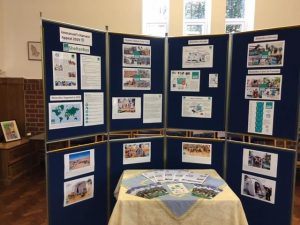 really great display with photos, information and our target for this year… little by little I am sure we WILL get there.
Thanks to ShelterBox  for all they do,  and thanks to Liz Odell for sharing her story of ShelterBox and helping us understand, in a very moving way what it does.
Please make sure you know about this and try to  contribute to this year's Appeal if you feel you can.
6th October: Harvest Thanksgiving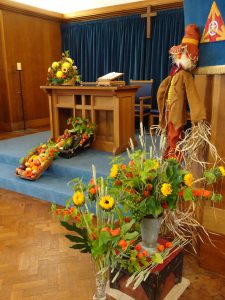 Once again the floral artists of Immanuel had worked hard to put on a splendid display depicting the bountiful harvest we enjoy. Under the watchful eye of our resident scarecrow the red, yellow and orange hues of the flowers complemented the colours of the fruit and veg that spread out from the communion table.
Whilst in the windows, matching displays picked out all manner of harvest crops.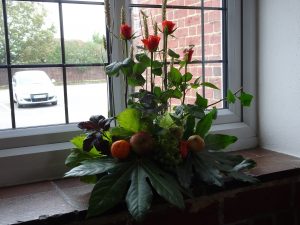 Those who came into  the church via the East porch encountered a striking display based on the theme of 'wine' – what our teetotal, non-conformist forebears would have made of that I dread to think, but it certainly made for a striking display!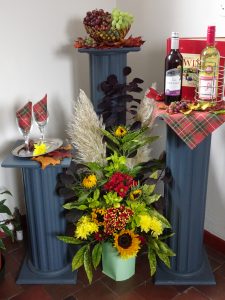 It goes without saying that following a very long tradition at Immanuel  our congregation brought their own gifts of God's bounty to us that were later distributed to those in need: this year our Harvest donations go to the "Swindon Food Collective" (or foodbank) and the "Swindon Night Shelter" that provides not only overnight accommodation but a hot midday meal to the homeless of the town and others in need.
As always, bunches of flowers were taken out to friends unable to be with us to share in what was yet again a memorable service of thanksgiving, during which we were all reminded of the desperate need to care for our fragile world.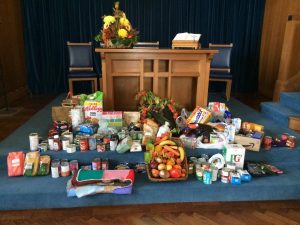 15th September: a wonderful celebration

A packed congregation from across our Partnership together with the Mayor and Mayoress of Swindon, gathered at Immanuel to celebrate both the 80th anniversary of the opening of the church on the site in Upham road and also mark the 50th  anniversary of the formation of the partnership of churches in Old Town.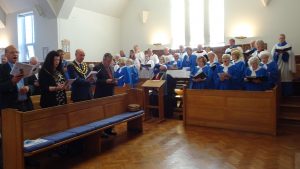 An enhanced choir led the congregation in some rousing singing that nearly raised the roof (I wonder, has the Vaughan Williams setting of "All People who on Earth do Dwell" ever sounded so magnificent?)
The service was led by the Moderator of the URC General Assembly, Derek Estill, who gave us a very simple but clear message to be mindful of the ecological future of our planet and urged us to listen to God, to each other and work out the way ahead.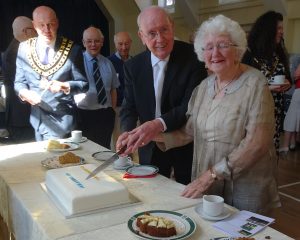 He reminded us in a challenging way, that discipleship in following Jesus is not easy and that our faith should never be a crutch but the very mainstay of our lives.
Afterwards in the hall, the Moderator joined Margaret Williams in cutting a celebratory cake while others of the congregation spilled out into the sunshine of the garden to enjoy what was a glorious day. It all made for a fitting end to a really great weekend that, as well as looking back, also looked forward to the challenges ahead.
14th September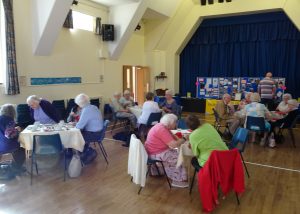 It has to be said that Immanuel struck lucky once again in organising an afternoon event to celebrate both the 80th anniversary of the opening of the church and at the same time mark the 50th birthday of our Partnership of Churches in Old Town. Some fifty or so folk met up during to enjoy an afternoon 'cuppa' and a slice of cake  (thanks are due to Liz Gleed for organising  all the refreshments!) and at the same time were able to get to know the visiting Moderator of the General Assembly of the URC.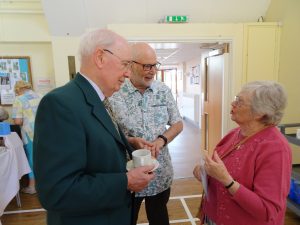 Derek Estill had travelled down from Lancashire to be with us and lead our worship on Sunday morning but while he was here, took the time to visit Bath Road, Christchurch and St Mary's and have meetings with Simon Stevenette and Mark Barrett. The afternoon session gave  everyone who had turned out the opportunity to talk with him and appreciate both his interest and his gentle humour. (Right : Derek  and Robert in deep discussion with Anne Doyle  – former Ecumenical Officer of Wiltshire Churches Together)
18th August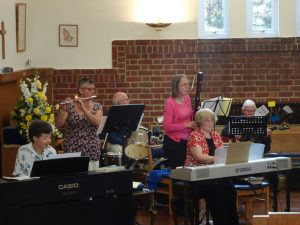 Sunday evenings throughout August are traditionally a time when we hold joint services across the partnership and it was Immanuel's turn to play host on Sunday 18th. Once again the decision had been taken to organise a "Summer Singalong" and give the minister a rest from preparing a sermon by arranging a service of favourite hymns. We are blessed at Immanuel in having  such a fabulous group of musicians happy to turn up and accompany our singing, so along with Geoff on the organ we had Julie and Shelly on keyboards, Jenny and Kathy on woodwind, Andy on bass and Keith on drums……  and what a great sound they made!
Over  100 folk came along from our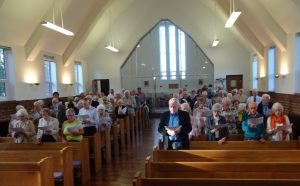 partnership to join in the fun, and with the sun streaming in on a glorious summer evening  we nearly raised the roof in some of the really rousing hymns. Robert guided us through the background to the hymns and filled us in  on  a few interesting facts for each one.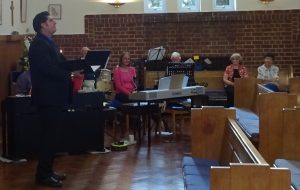 We were particularly fortunate in that our 'peripatetic' tenor, Dr Mario was able to be with us and having performed a wonderful solo during  the morning service (Schubert's Ave Maria) he filled the church with his magnificent tenor voice in the ever-popular "I'll walk with God".  It all made for a  very moving service that was greatly appreciated by everyone; it was particularly good that so many felt able to stay behind to join in teas and coffees that were served in the church parlour. As several people asked….."When's the next one?"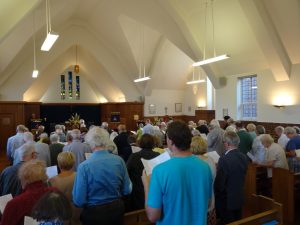 5th August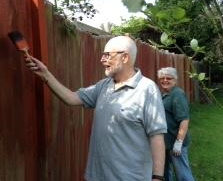 Our hardworking Buildings and Grounds Committee organised a working party for Monday 5th to do some of the little jobs in and around the church and  grounds that mount up over the year. Thankfully the weather stayed fine and most of the tasks were accomplished even by lunchtime. A team of fourteen turned out that included the minister (who, by the end, seemed to have more paint on him than on the fence!)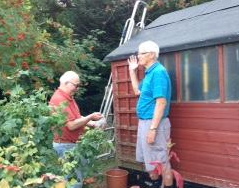 Roses and hedges were pruned, the shed roof was re-felted, lots of weeds met their fate, the cycle rack was repaired, the front garden tidied up as well as the far (west) side of the church.  And inside the church itself, a lot of tidying, dusting  and polishing went on.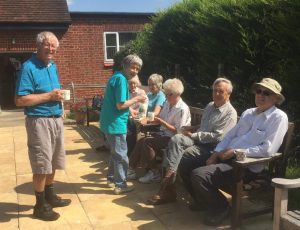 We may have been a group of OAPs but we still managed to leave the place looking much better than we found it and as Myra proved, age is no barrier to weeding and tidying the front garden…. single-handedly she did a wonderful job and thoroughly deserved her half-time cup of coffee! A great team spirit reigned all morning and it has to be admitted there was much hilarity and laughter.  If you're free next time, pop along and join us – its great fun!
28th July
Farewell  to Tom!
Tom Wheeler joined Immanuel choir as a little treble (well to be honest he was never really that small!) and transferred to the tenor section when notes in the treble clef became too high to reach; so it was with some degree of sadness that  when the choir started its summer break on Sunday 28th July, we bade farewell to him. In September he starts a new and exciting phase in his life when he continues his studies in music at the University of Canterbury. 
He has recently been awarded a distinction in his grade 8 singing examination by the associated Board of Music, so he can head off with our best wishes and an excellent qualification already under his belt! The choir gathered prior to our morning service to wish him well in this new chapter of his life and  Geoff made a small presentation of a card and token which we are sure he will use sensibly!  We know he will be back with us from time to time but the back row of the choir won't be the same without him!
14th July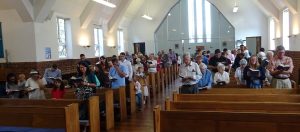 Despite being postponed because of heavy snow and other events which prevented it happening last year, at last we managed to hold our joint service with our Romanian friends this Sunday….. and what a time we had! The holiday season was already on us so congregations from both churches would have been somewhat diminished, but we still had a fairly crowded church to celebrate our 'oneness' in Christ.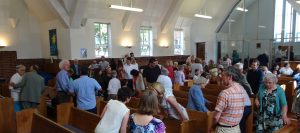 During our time together we learned something of their background and how their church had come together in Swindon, and they learned a little about the URC, our history and way of thinking .  The middle of the service gave everyone a chance to mix and get to know one another:  so much chatter was going on that Robert and  their pastor, Vio, had a major task in calling us to order. (see picture above)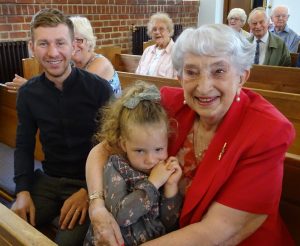 (left: Jean became a surrogate grannie!). 
With readings in both English and Romanian, some lively hymns and musical contributions from a male trio singing a Taizé chant in Romanian, a joyful song from their children and a rousing anthem by our own choir, it all made for a service that will long be remembered. Let us hope it won't be the last time we meet in such a way.  It has to be said that the language barrier didn't exist!