March 18th
It seems odd to be writing about what turned out to be a "non-event" in this 'Recent Events' page!  But it was a great pity that the joint act of worship planned with our friends from the Romanian Pentecostal Church had to be cancelled – the heavy fall of snow overnight on Saturday 17th meant that very few of them would have been able to attend and our numbers would have been greatly diminished as well. We are looking to identify  a date not too distant to hold the service, so watch this space!
March 11th
Mothering Sunday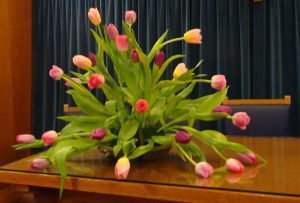 As is our custom, Mothering Sunday was once again the occasion to honour not just the mothers in our congregation, but all the ladies and posies of daffodils were distributed to all  who were present.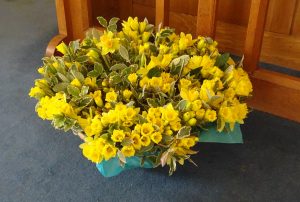 Right: prior to the service a vast number of posies had been prepared for distribution to all the ladies of the morning congregation.
 February 11th
During the morning service today Roy Lowes led us in some challenging prayers of intercession: at the request of several of the congregation here is a link to a pdf file that you may wish to read.
Prayers of intercession Feb 2018_docx
February 4th
Not simply  Immanuel, but the BBC's "Songs of Praise" today in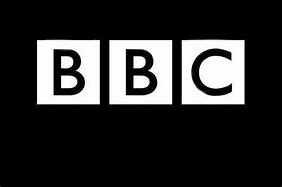 its programme on pioneering women  in the church, it featured the story of Constance Coltman, the first woman to be ordained in the UK a hundred years ago by the Congregational Church. It was a fascinating item and included an interview with URC minister, Jenny Mills, and is certainly worth watching.  If you have the facility at home, its definitely worth watching on 'catch-up'.
January 28th
The last Sunday of the month saw the celebration our annual Christingle service at Immanuel. Aided by some of the Partnership leaders and assistants of 'Messy Church', in his inimitable way Stuart Benjamin introduced the whole congregation to some of the craft activities that make our messy church so popular and so much fun!
There was the opportunity to make our own christingle, produce a 'stained glass' image, do some colouring or write a prayer, and from the buzz of conversation there was a lot of fellowship taking place too!
The hymns too, took on a slightly different feel as we were all encouraged to participate very actively in "My God is a great big God"!  With tea and cake to round off the morning it made for a memorable act of worship with a difference.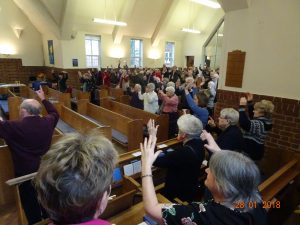 January 27th
Annual Visit of the Aldbourne Band
The Aldbourne Band has been performing at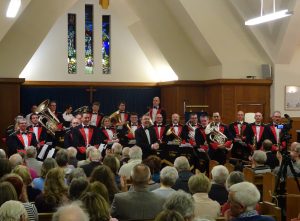 Immanuel on the last Saturday of January since 1963 and this year was no exception – indeed it was something of a special event. A dozen or so of the  band that played in 1963 had been invited to come along to a reception prior to the concert, and over a cup of tea, a lot of stories were told and nostalgia was in the air.
During the evening's concert the 2018 prizewinning premier league band played several pieces from that first concert and we heard a series of  amusing reminiscences by the former members.
During the second half it was great to hear the Youth Band perform for some of the time, proving that music making prowess is strong in Aldbourne and North Wilts and promises well for the future.
It was a magnificent evening of music making  of the highest standard played to a packed church.
January 21st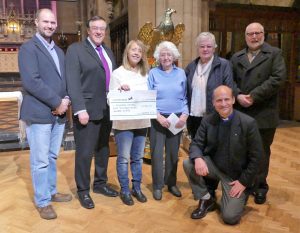 As we have done for many many years, at the start of the week of prayer for Christian Unity, a  joint service was held at Christ Church: but this year it was a little different. The service was also used to mark the very happy conclusion of our joint project in the Old Town Partnership of Churches, a project that ran throughout 2017  and was aimed at raising what  we hoped would be a grand total of £6000 to support the work of the Swindon Foyer.
(Left: members of the Partnership Focus Group present the cheque to Michelle, representative of the Foyer )
The Foyer accommodates and supports youngsters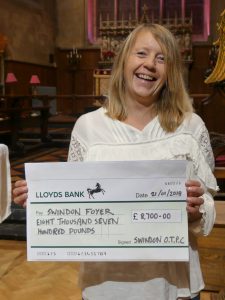 from 16-25 who find themselves homeless and out of work in Swindon and district. As a result of the joint activities of the three churches throughout the year, a magnificent total of £8,700 was raised which supersedes anything we might have hoped for.
(Right: Michelle was simply overjoyed!)
December 31st
The unexpected snowfall prior to Christmas had meant that the services planned for 10th and 17th December had been rearranged, so in a slight change from the plans, Immanuel held a post Christmas "Carols by Daylight" event.  As usual, the choir was 'on form' and the congregation (with lots of visitors) joined in  and sang favourite carols with great gusto, with  readings and poems to intersperse the music, it made for a thoroughly delightful act of worship that was  appreciated by everyone. There were many comments  on 'how lovely it was to still be singing carols after Christmas', so who knows, we might even do it again that way next year!
December 24th and 25th
Well-attended services on both Christmas Eve and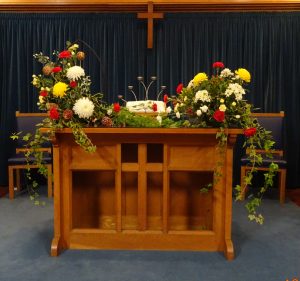 Christmas morning suitably celebrated the birth of our Lord, though in very contrasting ways. The midnight communion service was beautifully reflective and the emotion of the night was heightened  by a wonderful solo by newest choir member, Mario, who performed the classic Christmas song,  "O Holy Night"; while Christmas morning saw fun and games with children's presents being displayed for all to see and enjoy – we even got to hear what some of the adults had been given for Christmas!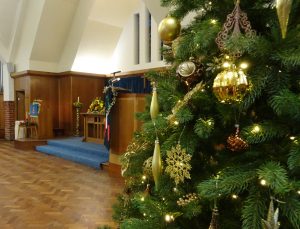 As always it was a joy to meet up with old friends who popped in for one or other of the services and  we were blessed with  quite a lot of 'newcomers'  – always heartening to see.
December 18th: Carols on the Carpet
(Well we've never held it in the car park so we felt we ought  to be honest!)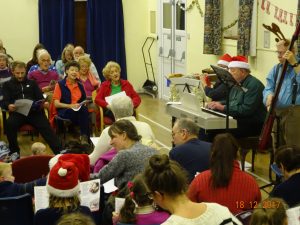 Once again the church hall was well packed with folk from the neighbourhood and a great time was had by all as Geoff led us in a medley of Christmas songs and carols. This year, learning from experience, we held back the musical instruments until towards the end – just as well as there were some very enthusiastic drummers determined to make themselves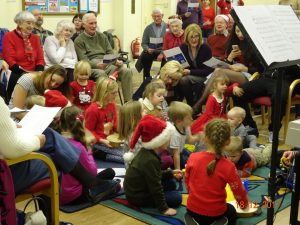 heard!  Warm mince pies were  extremely well received at the end of the session  and for once quite a large number of friends stayed on to chat – everyone was so grateful for the welcome  and lots of very complimentary comments were passed on to our musicians, Geoff, Jenny and Andy. Another great event!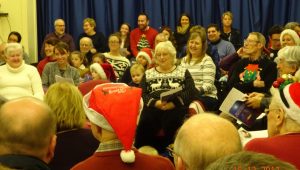 December 17th
Lessons and carols: a very well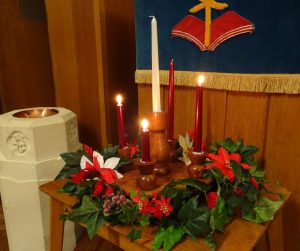 attended morning congregation found that the choir was in fine form as they performed the carols that snow had brought a halt to last week! And people blocked by snow last week brought even more gifts brought in for distribution to those in need…Immanuel folk are generous indeed!
December 13th

The annual Carol Service of the Women's Fellowship took place today and as you can see, a good number of ladies braved the rain and cold to enjoy the carols and readings (and also the tea that followed!)