1st August 2021: Morning Worship
"Have we grown up?"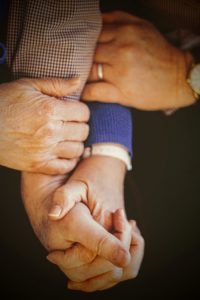 This morning's service was the first time that we have allowed singing in the church for a very long time – unfortunately the recording doesn't pick up the enthusiasm with  which we tackled the three hymns despite Geoff's inspired playing on the organ!
The service is introduced by Paddy Hayes, the duty elder, who also reads the lesson from Ephesians 4: 1-16. The minister, Robert Jordan, leads our worship, the prayers of intercession are given by Liz Gibney and the additional reading of the adaptation of psalm 78 is by Steve Brain
Order of Service 1st August 2021
25th July : Morning Worship
"Know that God is always with you"
Sadly we were beset with technical problems today and there is no recording available of the morning service at Immanuel  …… a great pity as for the fist time in 15 months we actually had some congregational singing during the service that was led by Geoff Gleed.
18 July : Morning Worship
"No longer….."
Our worship today is led by the minister and is introduced by the duty elder, Eddie Thomas, who also reads the lesson from Ephesians. Our prayers of intercession were written by Roy Lowes and are read by Wally Knight.   Tom Wheeler, on vacation from Canterbury, accompanied by Geoff Gleed  on the piano, provided an anthem,  singing "Lord God of Abraham" from Mendelssohn's 'Elijah' .
Order of Service 18th July 2021
11th July : Morning worship 
"Power"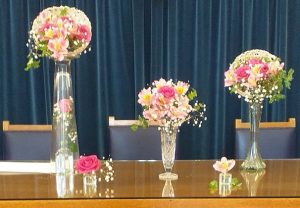 This morning's service is introduced by the duty elder, Eddie Thomas who also reads the Gospel reading later in the service. The Old Testament lesson is given by Helen Thomas.   Our worship is led by Stuart Benjamin.
Order of Service July 11th 2021
We hope you will enjoy listening to the service and feel you are joining with the fellowship of worshippers at Immanuel.
4th July: Morning worship
"What's success"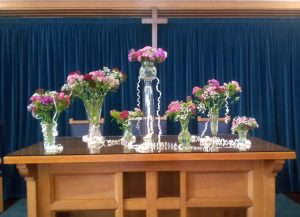 Today's act of worship  is introduced by the duty elder, Steve Brain and  is led by the minister, Robert Jordan. The  two lessons for the day, from Ezekiel and Corinthians, are read by Steve Brain and Jean Batten. The prayers of intercession are given by Wally Knight. During the service Robert refers to the stunning flowers that decorate the communion table and which were arranged by Joyce Harrison of  our floral art team at Immanuel. (see right)
27th June: Morning Worship
"I wish it need not have happened in my time…."
Today's service is introduced by the duty elder, Steve Brain, who also reads the three lessons from Genesis, Jonah and the Gospel of Mark and our worship is led by Stuart Benjamin.
20th June: Morning Worship
Today's service , with the theme "We cannot walk alone", marks the end of Refugee Week 2021. It is introduced by duty elder, Eddie Thomas who also reads the lesson from Mark 4. and is led by our minister. The prayers of intercession were prepared by David and Janet Leadbeater and are read by David.
Order of Service 20th June 2021
13th June : Morning Worship
The theme for the day was "Time takes time"and was based on today's reading  from  Mark  4 26-34 
The service is introduced by David Leadbeater who also reads the lesson.
Today's reflection by the minister refers to the photograph on the left which was displayed in the church for all to see and admire.
Order of Service 13th June 2021
At the close of the service the church meeting was held when there was an election of elders. The following members were duly elected to the position of Elder at Immanuel and will be inducted on July 4th during the morning service: Stephen Brain, Mike Denton, Anne Farrow, Liz Gibney, Mike Gordon, Paddy Hayes and Eddie Thomas
6th June: Morning Worship
The theme for the day was "Where are you" and the service was introduced by the duty elder, Paddy Hayes who also read the two lessons.  The sermon was given by the minister and the prayers (written by John Blakesley) were read by Wally Knight.
23rd May: Morning Worship for Pentecost
It was a rather a dreary cold day but but the warmth of fellowship within the church was very real as we celebrated Pentecost Sunday. With Robert preaching his first service at Highworth since the end of the lock-down, Geoff Gleed stepped in to lead our worship at Immanuel (doubling up on the organ as well!). Below are links to a sound recording of the service and also to the order of worship.
It is introduced by Steve Brain
Reader: Pam Western :  Acts 11: 1-18
Order of Serice Sunday 2021.05.23
16th May: Normal Service Resumes…….
Well it may not have been as 'normal' as we might have liked, but even so, fifty members and friends gathered at church to mark a return to corporate worship.  Apart from the sheer joy of joining together for worship once more there was a real sense of delight as friends met up who haven't seen each other for almost  six months.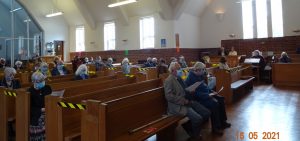 If you would like to hear the service, below you will find  links to a sound file as well as an order of service.
The minister, Revd Robert Jordan, leads the service.
It is introduced by David Leadbeater who also does the Reading from John 17:6-19
The Prayers of intercession are given by Wally Knight.
Order of Service Sunday 16.05.21
A return to worship demanded something special from the floral art team and Liz Gibney (ever one to take up the challenge) came up with this delightful arrangement……
……. they are all blooms and foliage from members' own gardens and by way of explanation:
Here we all are,
Gathered together in one place.
Picked, nurtured, cherished, chosen.
These flowers gathered from our gardens are like us.
Some bright, some muted;
Some weighed down, some supporting others;
Some raggedy and some ready to burst.
Their peace and beauty has brought us this far,
Has given us a focus through the long months.
And has brought us hope to start afresh.
1st May: Coffee Morning
There was an unfortunately low turnout for the coffee morning organised for this Saturday but seven of us joined with the minister to share ideas and opinions on how we will manage the return to worship at Immanuel in a few weeks time and how life is likely to be so very different in the future.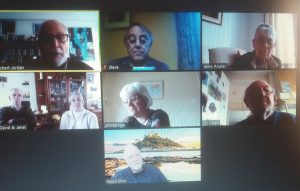 For the time being it is very hard to anticipate how things will turn out (and indeed how many people will turn up at services once we return to some sort of normality) but it was good to share.
It was lovely to be joined by former member at Immanuel, David Elliss (now living in Cornwall) – proving that there are benefits to be had from zoom meetings ! 
24th April
A very productive meeting took place on Saturday morning when 6 members of our 'social media group' met up on zoom with Hannah Fleming-Hill. All sorts of ideas and practical suggestions emerged from our discussions as to how we can improve our presentation of Immanuel to the local community on 'facebook' and this web-site. In addition we also began to investigate how we might be able to either  'live-stream' (broadcast) or record our services so that folk can watch at home or wherever they might be.
10th April 
The group of members who have been considering how we can develop our skills in social media met on zoom once again to review the changes made to both the web-site and our Facebook page. Our thinking also moved to consider how we might  begin to film and even 'stream' our weekly acts of worship. Even if we are growing close to resuming corporate worship (16th May is not far off!) we feel there is a case to be made to 'casting our net still wider' and so we will be meeting up once again in the next week or so with our consultant (Hannah Fleming-Hill)  to see what we might be able to achieve.
1st April
Elders have been busy circulating paperwork and nomination forms for an election of elders.  Because of the national lock-downs last year we did not hold elections and are extremely grateful to those elders who agreed to continue to serve and addition year but clearly this is not a situation that can continue. We hope to hold an election in a short church meeting after the service on 16th May. Do please hold all the elders in your prayers at this time as they work to safely bring about a resumption of 'normality'
9th March
With Easter only a few weeks away, the elders decided that it was time to send a message to the local community and as services are still not really possible a banner was thought to be the best way……
For the next month we hope our message will make an impact  on all who pass along Upham Road.
30th January 
A small group of members met up on zoom to explore how we might develop our skills and promote Immanuel a little more in  social media. With Hannah Fleming-Hill to guide us we spent half the morning considering our Facebook page and than another 90 minutes looking at the church web-site.
Already minor changes have taken place  and there are more in the offing. It was a very useful morning of considering how we can truly share the Good News to the wider community and build up our own faith. The lock-down  may well have had its problems but it has obliged us to start thinking 'outside the box'……so as they say: "Watch this space!"
New Year's Eve
It was at rather short notice, but a 'zoom' session took place on the afternoon of 31st December when  a dozen or so members and friends met up on line to share a few hours of chat and swap news.  We certainly enjoyed each others' company  and there was a good deal of banter and leg-pulling! Although we didn't exactly see the New Year in, we were able to exchange best wishes for what we all hope will be a better year ahead for all of us.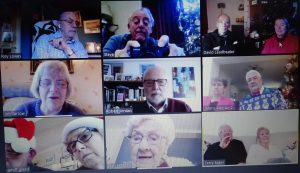 With the impending news of the 3rd lock-down we all said we'd like to meet up again in a similar way – so do  look out for notices on  the 'What's On'  page and the church news-sheet. It  really is not difficult to organise –  even with a smart phone  you  would be able to join in the fun!
Christmas tree in church
Thanks are due to the anonymous donors of the Christmas tree that was set up and decorated so beautifully in church this week. Although it is not as tall as some we have seen in past years (like Christmas itself this year it seems to have been  'cut down in size') but it gladdens the heart….and I know it is greatly appreciated by so many in the congregation.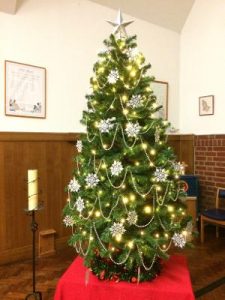 Sunday 27th December: 1st Sunday after Christmas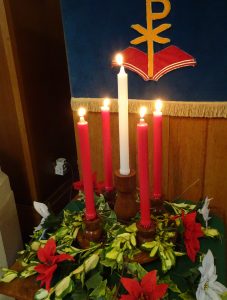 Recent changes in the covid  tier system seem to have had an effect on numbers attending worship but even so 30 or more members and friends were at church today to worship on a gloriously sunny (if chilly ) morning. We were able to hear some wonderful settings of Christmas carols (even if it wasn't our own church choir singing) and Geoff Gleed who led the service gave  us a pause for thought that you can read on the 'Reflections' page  or simply hear by clicking on the sound file below. The duty elder is Paddy Hayes and readers are Robert Jordan and Steve Brain.
Sunday 20th December: 4th Sunday in Advent
Following the pattern set last week, today's worship took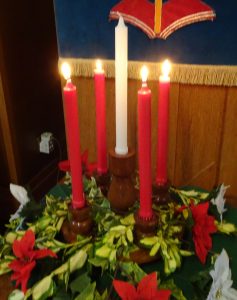 the form of a shortened form of 'Lessons and Carols' that also included the service of Holy Communion. Below you will find links to the recording as well as the order of service. The minister leads our worship and duty chaplain introducing the service is David Leadbeater; in addition others taking part are Tom Wheeler, Anne Farrow, Steve Brain, and Peter Beale. The intercessory prayers were devised by Avril  and Roy Lowes and read by David Leadbeater.
Note: there were some problems with the sound recording (mostly with Robert's microphone) and you may need to adjust the sound level on your computer/ i-pad but bear with it as the service is a lovely start to the Christmas.
Sunday 13th December: 3rd Sunday in Advent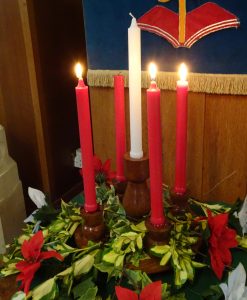 Our Sunday worship took a slightly different format today : inasmuch as we will be unable to hold our traditional 'Lessons and Carols' services in the run-up to Christmas, today and next week are by way of a replacement – special readings and more singing to listen to! Contributions  (other than our minister) come from  Jane Whitworth, Lindsey Miller, Pam Western, Liz Gleed, Geoff Gleed, and Liz Gibney.
Unfortunately the notices at the start, given by duty elder, Mike Denton were unrecorded and the service begins with an introit, "The Song of the Madonna", sung by Jane Whitworth.  Here are the links to the order of service and the recording:
Saturday 12th December: 'virtual coffee morning'
Following the series of social events organised earlier in the year a 'coffee and mince pies' morning was offered to the congregation and a fair number of the members and friends gathered on 'zoom' to share 90 minutes of chat , swapping news of others in the church family.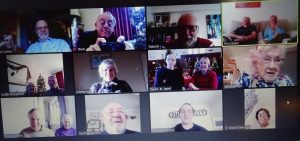 As one might well expect there was a good deal of friendly banter as Christmas cheer dominated the proceedings.
(Apologies for the blurred screen shot – I'd only been drinking coffee – honest!)
A new banner for Immanuel
The elders' meeting on Thursday 3rd Dec decided that, with Christmas approaching, we ought to send out a message to the surrounding neighbourhood:  but given the restrictions of being in 'tier 2' it seemed we would be  limited as to what we could feasibly do, so we hit on the idea of a new banner….in less than a week it is in place and being admired and commented on by lots of passers-by.

We hope you like it!
Conversations between ministers
Our Immanuel 'Facebook' page now has five   conversations that  are worth following if you can access the site. It is quite fascinating listening in to the chat between Mark Barrett and our own Robert, good friends as well as fellow ministers.
Alternatively you can use the following link:
https://www.youtube.com/results?search_query=bath+road+methodist+church
Sunday 6th December: 2nd Sunday in Advent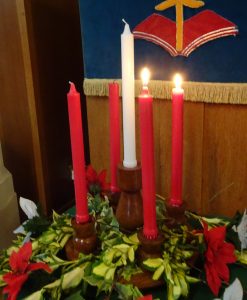 After the month-long lock-down, our pattern of worship has resumed and so please find below the links  to both the recording of today's service as well as the order of service.
Sunday 29th November: Advent Sunday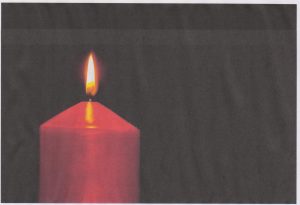 Here are links to an Advent service  that was specially recorded by the minister and a group of members together with the associated order of service which contains the words of the readings and hymns. We hope you enjoy listening to it.
Order of Service 29.11.2020 Advent I
Wednesday 11th November 
Armistice Day
We had a special moment on 11th November where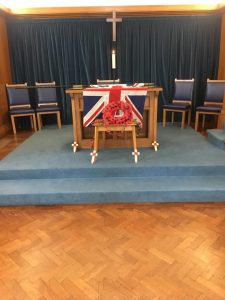 between 10:30 – 11:30 the church was open for private prayer, and the 2 minute silence at 11:00
This was a moving time for those who were present.
(The photo on the right was taken in the quiet of the church  on Wednesday morning).
Some of you may have spotted that the tree standing at the front of Immanuel is in its full autumn glory at the moment and helps remind us that even in these difficult days, there is still much to give thanks for in God's wonderful world.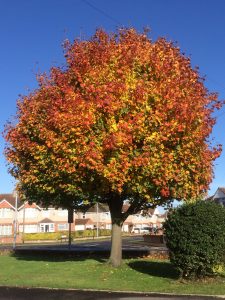 Sunday Worship 1st November
This morning's worship was conducted by our minister; the duty elder and reader was Tom Hartshorn, and the prayers , written by Janet and David Leadbeater, were read by Liz Gibney. Links to  both the sound file and order of service are below:
Sunday Worship 25th October
This morning's service was conducted by 'our own' Geoff Gleed, who also officiated at the organ: we are so fortunate to be able to call on him from  time to time. Robert was preaching at our sister church at Highworth that has now resumed a regular pattern of worship. 
In terms of the the recording of the morning service there was a minor 'glitch' half way through but it was soon resolved, so do not adjust your set! The service is introduced and the reading given by Steve Brain. A link to both the sound file and the order of service is below:
Sunday Worship 18th October
Unfortunately the recording of the morning service today failed, so we have no record of the service that was taken by Eric Hewitt of Bath Road who came to us as part of the Partnership 'pulpit exchange'.
Sunday Service 11th October
Below are the links that will take you to a recording of our morning worship today and also to the order of service (which will give you the text of the reading as well as the words of the hymns).  The minister's chaplain, who also gave the reading from Exodus, is Paddy Hayes.
In contrast with a traditional display of flowers and produce, this year saw a much simpler presentation and service – perhaps more in keeping with the times in which we live. Nonetheless, led by the minister, we did indeed celebrate God's bounty to us in  a range of beautiful music, hymns, readings and poems. If you care to use the link  below you can share with us and follow the order of service that is also available. Other than the minister, voices you will hear are those of Mike Gordon (duty elder), Steve Brain, Jean Batten and Jane Whitworth (who led our prayers of intercession.)
Apologies for the slightly annoying hum that affects the lectern microphone!
Sunday Service 27th September
Here are the links that will lead to a recoding of this morning's service at Immanuel and also to the order of service withthe reading. Unfortunately there is an extended pause at the start and the duty elder's announcements (Francs Strange) have been  cut. The reader is Pam Western.
Sunday Service 20th September
Below you will find  links that will lead directly to a recording of the morning service today as well as the order of service. We do hope it will bring you all closer to the life of Immanuel.
Sunday Service 13th September
As Robert reminded us this morning, this is the 6th Sunday that we have been able to resume our worship and a new sense of normality is now beginning to set in: below please find the liink that will provide you with a recording of the service. There is also a link to the order of service that includes the words of the reading and the hymns. We do hope it will bring you all closer to the life of Immanuel.
Order of Service – 13 Sept 2020
Sunday Service 6th September
Below is the link to the recording of last Sunday's service at Immanuel; simply click on the start 'arrow' on the left to hear the service.
Note: there is a slightly long 'run-in' prior to the start of the service, so don't be put off by the silence! Below please find the link to the order of service that also includes the words of the hymns and the reading.
Order of Service – 6 Sept 2020