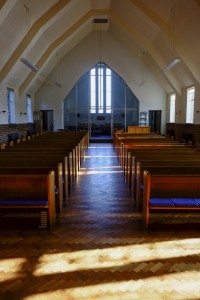 Apart from the church itself (see left), Immanuel is blessed with some extremely good premises and its facilities are regularly booked by outside community groups as well as church organisations.  Part of our popularity may well be due to the excellent car park to the side of the church which  can take up to 50 vehicles.
The church and ancillary rooms have ramps for wheelchair access and there is a wheelchair lift which enables wheelchair users or those unsteady on their feet to move between the Church and rear premises. In addition there is a hearing loop in both church and hall for those who are hard of hearing.
To the rear of the building is an attractive well-maintained enclosed garden and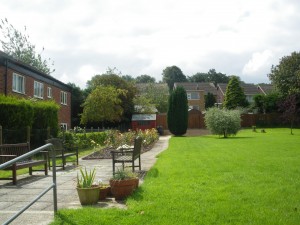 lawn area which proves a great setting for garden parties and similar events.
Groups and users of the hall and garden room often spill out onto the lawn when the weather is fine.
A side gate affords direct access to the car park.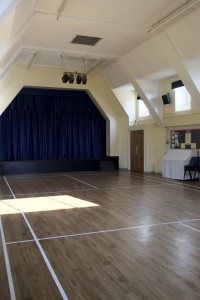 Rooms available for booking (for one-off events or regular meetings)  include our Hall and stage.
The Hall can seat up to 150/ 160 people and has direct access to the lawn and Garden Room.
The stage offers basic facilities and access to the full stage lighting and sound system needs to be negotiated.
Access to the stage is easily made via the " green room " behind it.
There are three additional meeting rooms, each capable of accommodating 30/40 : the church 'parlour', the 'choir room' and the 'garden room.
In addition we have a small committee room or lounge that will take 10/12 people in more comfortable seating.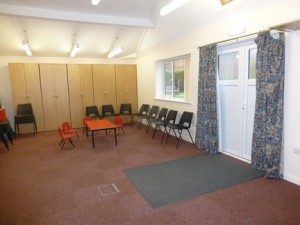 The Garden Room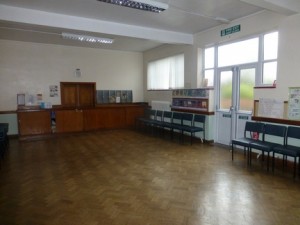 The Parlour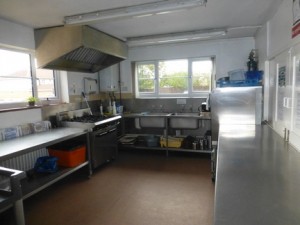 The premises are served by an excellent kitchen which includes access to crockery.
Finally, the entry to all the ancillary rooms is directly from the car park via our entry foyer, which itself makes a pleasant meeting point.
The church foyer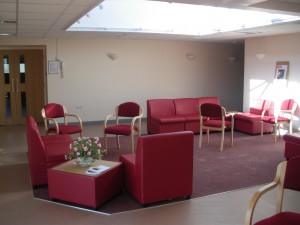 If you  are interested in booking a room or rooms please contact the church bookings officer at
        immchurchbookings@gmail.com
you will then receive a bookings form for completion. In addition, the church has various policies which you need to be aware of and which are available here:
Please only complete the application after reading, understanding and accepting these important documents.