A number of Community Groups use the church premises on a regular basis and are very much part of the scene at Immanuel.
Brownies These meet on Mondays from 6.00 pm – 7.30 pm. The age range is from 7 to 10 years. To join , names need to be added to the waiting list and the cost is currently £25 per term (3 terms per year). For more details  please contact via 16thswindonbrownies@gmail.com
Guides sadly no longer meet at Immanuel, as they have merged with another group.
Walcot West Luncheon Club If you are over 55 this could be the club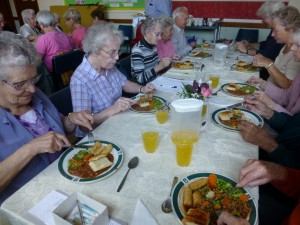 for you. It meets on Tuesdays with a prompt start at 12.30 pm when every week a tasty hot lunch  and dessert is served. It is a  lively and very happy club and members come from various parts of the town (not just Old Walcot). There is a weekly charge of £3.00. If you'd like further details, use the 'Contact Us' tab above.
The Estelle School of Dance : the dance school under its principal Patricia Bennett uses the premises several times during every term-time week with classes in ballet, tap, and modern dance. The Baby Class start at 2 years old. Each year the school combines with our own Dramatic Society in its annual pantomime.
A new addition to the users is a weekly Science Club that meets in our garden room each Monday lunchtime and encourages children to explore aspects of the scientific world.
Several choirs  and musical groups use the buildings as a rehearsal venue:
The Avebury Vocal Ensemble (AVE) : rehearses from time to time on Monday evenings  (www.aveburyvocal.org)
Ten in a Bar : possibly Swindon's premier close harmony singing group meets on Wednesday evenings throughout the year (www.teninabar.com)
Music Bugs : meets on Friday mornings and offers a range of fun-packed music making for  babies and toddlers 0 -4 years (www.musicbugs.co.uk)
The town's  Cooperative Ladies Choir rehearses at Immanuel on Friday afternoons
In addition groups from the University of the Third Age (U3A)  make  frequent use of the buildings for all manner of meetings.